A cura dell'Italian Desk di Dezan Shira & Associates
L'Indonesia rappresenta un mercato estremamente attraente per le società straniere, grazie alla popolazione di oltre 250 milioni di persone  (di gran lunga la maggiore dell'intero sud-est asiatico), la modesta età media (pari a 29 anni, inferiore agli standard dell'area) e una classe media in rapida crescita. Tutto ciò ha spinto numerose aziende straniere a costituire filiali in Indonesia al fine di penetrare nel mercato locale.
Generalmente, le piccole e medie imprese o gli investitori che non dispongono delle risorse delle multinazionali entrano in tale mercato in maniera lenta e graduale, per poter comprendere in maniera graduale tutte le opportunità che esso offre prima di effettuare notevoli investimenti. Per questo motivo, le società che desiderano condurre ricerche di mercato, individuare potenziali partner, fornire servizi post-vendita e di supporto o monitorare l'esecuzione di accordi commerciali con partner locali, ritengono che l'apertura di un ufficio di rappresentanza sia la scelta meno rischiosa e meno costosa.
Le tipologie di uffici di rappresentanza
Esistono due principali tipologie di uffici di rappresentanza:
1) Uffici di rappresentanza con finalità commerciali
 Gli uffici di rappresentanza con finalità commerciali (in inglese "Trade Representative Offices") rappresentano la tipologia più diffusa e presentano numerose somiglianze con gli uffici di rappresentanza in Asia. In Indonesia sono posti sotto la giurisdizione del Ministero del Commercio. Come avviene di solito per gli uffici di rappresentanza, anche in Indonesia le attività consentite sono limitate. Essi non sono autorizzati ad intraprendere attività commerciali, possedere impianti produttivi e, pertanto, non possono accettare ordini, prendere parte a gare, siglare contratti ed importare, esportare e vendere direttamente prodotti. Agli uffici di rappresentanza è consentito condurre operazioni di marketing e attività a scopo promozionale ed informativo per la società madre. Inoltre, essi costituiscono una rappresentanza legale nel paese ospitante e possono monitorare gli accordi siglati con partner locali, purché l'ufficio di rappresentanza non generi direttamente profitti per conto della società madre.
2) Uffici di rappresentanza "di costruzione"
Gli uffici di rappresentanza di costruzione (in inglese "Construction Representative Offices") sono ancora più limitati, e vengono creati allo scopo di collaborare e svolgere attività di consulenza con aziende indonesiane operanti nel settore edilizio. A differenza della prima tipologia, questi ultimi ricadono sotto la giurisdizione del Ministero dei Lavori pubblici.
Come costituire un ufficio di rappresentanza?
Prima fase – Costituzione
Per costituire un ufficio di rappresentanza in Indonesia, è necessario preparare la seguente documentazione:
Modulo di richiesta, lettera d'intenti
Lettera d'incarico rilasciata dalla parent company
Lettera dell'ambasciata indonesiana nella nazione della parent company
Business plan dell'ufficio di rappresentanza
Lettera motivazionale del compagno di lavoro rilasciato dal Ministero per il lavoro
Licenza all'assunzione di lavoratori stranieri, se l'ufficio intende impiegarne
Seconda fase – Gestione del personale
Gli uffici di rappresentanza devono avere almeno un impiegato a libro paga, in aggiunta al direttore dell'ufficio. Al momento della costituzione dell'ufficio di rappresentanza, il direttore deve inviare alle autorità competenti alcune informazioni sui dipendenti, tra cui curriculum vitae, attestato di formazione e documento d'identità valido. Gli stranieri possono ricoprire l'incarico di direttore di un ufficio di rappresentanza. In questi casi bisogna dimostrare alle autorità di possedere un adeguato livello di formazione (è richiesta una laurea triennale) in aggiunta ad almeno tre anni di esperienza pregressa in un ambito adiacente. Al fine di rispettare la normativa sul lavoro, se l'ufficio intende impiegare cittadini stranieri sarà necessario assumere tre cittadini indonesiani a svolgere mansioni amministrative o di vertice per ogni impiegato straniero. Nel presentare domanda per il permesso di lavoro per i soggetti stranieri, l'ufficio di rappresentanza deve testimoniare di avere effettivamente cittadini indonesiani nel proprio organico, esibendo copia dei contratti di lavoro e dei loro documento d'identità.
Adempimenti annuali per gli uffici di rappresentanza
Per quanto notevolmente più semplici e sintetici rispetto agli adempimenti e alla documentazione richiesta per le Società a capitale straniero in Indonesia, una serie di adempimenti devono essere rispettati anche dagli uffici di rappresentanza nonostante essi non generino alcun turnover o profitto. I principali riguardano:
Presentazione di un report annuale relativo all'operato dell'ufficio (se l'investitore intende prolungare la durata della licenza dell'ufficio);
Realizzazione di un deposito fiscale mensile (nonostante l'operato degli uffici di rappresentanza non sia suscettibile di imposta di una tassa sul reddito, essi devono comunque rispettare adempimenti relativi al pagamento dell'IVA sui beni consumati e i servizi legati alle normali attività dell'ufficio);
Invio di un report relativo alla previdenza sociale (basato sulla normativa per l'assicurazione sociale indonesiana).
Pertanto, affinché l'investimento pianificato in Indonesia abbia successo, è necessario rispettare meticolosamente tali adempimenti. Nonostante il recente processo di semplificazione, la normativa in materia può essere tuttora di difficile comprensione per le aziende che si approcciano al mercato indonesiano per la prima volta. Sia chi sta considerando un nuovo investimento, sia chi sta valutando l'espansione di operazione precedentemente intraprese, deve condurre un processo di analisi interna e della regolamentazione esistente. In particolare, per le PMI prive delle risorse a disposizione invece delle multinazionali, il ricorso a professionisti è essenziale per realizzare una strategia di successo.

Chi Siamo
Asia Briefing Ltd. è una controllata di Dezan Shira & Associates. Dezan Shira & Associates è una società di consulenza specializzata nell'assistenza agli investimenti diretti esteri per le società che intendono stabilire, mantenere e far crescere le loro operazioni in Asia. I nostri servizi includono consulenza legale e strategica all'investimento, costituzione e registrazioni societarie, tenuta contabile con redazione di bilanci periodici ed annuali, consulenza fiscale e finanziaria, due diligence, revisione contabile, gestione tesoreria, libri paga e personale, transfer pricing, consulenza IT, sistemi gestionali, deposito marchi e servizio visti. Per maggiori informazioni vi invitiamo a contattarci al seguente indirizzo: italiandesk@dezshira.com o a visitare il nostro sito: www.dezshira.com.
Per rimanere aggiornati sugli ultimi trend degli investimenti e del business in Asia, iscrivetevi alla nostra newsletter per ricevere notizie, commenti, guide e risorse multimediali.
Dezan Shira & Associates Brochure
Dezan Shira & Associates is a pan-Asia, multi-disciplinary professional services firm, providing legal, tax and operational advisory to international corporate investors. Operational throughout China, ASEAN and India, our mission is to guide foreign companies through Asia's complex regulatory environment and assist them with all aspects of establishing, maintaining and growing their business operations in the region. This brochure provides an overview of the services and expertise Dezan Shira & Associates can provide.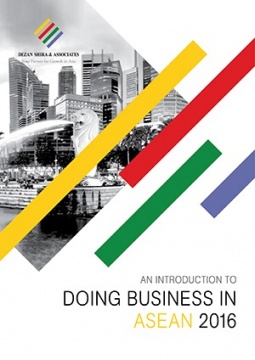 An introduction to doing business in ASEAN 2016
An Introduction to Doing Business in ASEAN 2016 introduces the fundamentals of investing in the 10-nation ASEAN bloc, concentrating on economics, trade, corporate establishment and taxation.We also include the latest development news in our "Important Updates" section for each country, with the intent to provide an executive assessment of the varying component parts of ASEAN, assessing each member state and providing the most up-to-date economic and demographic data on each. 

An introduction to foreign investment in Indonesia
Indonesia stands out in the ASEAN region for its competitive wages, large labor pool, and burgeoning domestic market. With a population exceeding 250 million, the country is poised to become an immensely lucrative market as it develops further and the urban consumption class continues to grow. In this inaugural issue of Indonesia Briefing magazine, we examine these trends, and highlight how Indonesia has made enormous strides in streamlining and liberalizing its business environment. 
The guide to manufacturing in Indonesia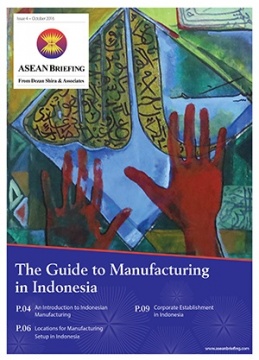 Choosing if, where, and how to establish foreign manufacturing operations in Indonesia can be a significant challenge. While the archipelago's vast diversity may initially seem daunting, a number of options are available which will allow entry and operations to be conducted in a seamless manner.In this issue of ASEAN Briefing, we discuss the growing importance of Indonesia as a hub for manufacturing within Southeast Asia, and provide guidance on how to select and establish operations within the country.