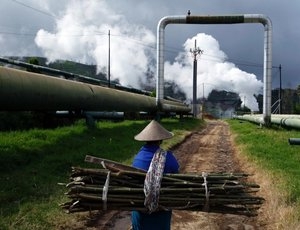 By Samuel Glickstein
Indonesia possesses enormous potential for renewable energy. According to a 2015 report by the International Energy Agency (IEA), the nation has 75 gigawatts (GW) of hydropower potential and 28 GW, or 40 percent, of global geothermal reserves. The report also states that the archipelago holds solar energy potential of approximately 1,200 GW. Although Indonesia's wind power potential is relatively small at less than 1,000 MW due to low wind velocity, this resource has also recently caught the attention of foreign companies.
Investors may consider Indonesia's growing demand for energy as a significant reason to invest in the nation's renewable energy sector. The country's energy consumption has increased rapidly since the early 2000s, aided by a growing economy, rising middle class, and upticks in urbanization. In addition, the country's electrification ratio (the percentage of households that are connected to the power grid) is approximately 82 percent, one of the lowest ratios in the Asia-Pacific region. This means that millions of Indonesians do not have access to electricity. Energy use is set to rise in coming years as the Indonesian government works to reduce poverty and develop remote areas that are not connected to the national power grid.