Distribution Arrangements and Import Licensing in Indonesia      
By: Dezan Shira & Associates
Editor: Samuel Glickstein
In March 2016, the Indonesian Ministry of Trade (MOT) issued Regulation No. 22 of 2016 on General Provisions on the Distribution of Goods. This law explains how goods can be distributed directly and indirectly within Indonesia. It defines a number of terms in Indonesian law including, distributors, sub-distributors, agents, sub-agents, grocers, retailers, etc. Furthermore, this regulation states that importers and distributors must go through retailers to sell their goods to consumers.
However, prevailing analysis on Regulation No. 22 indicates that changes it puts forward are meant for domestic companies and not foreign investment.

 RELATED: Corporate Establishment Services from Dezan Shira & Associates
Distribution Via Local Partnerships
Foreign investment (PMA) companies are currently subject to regulation under Ministry of Trade Regulation No. 11 of 2006, which prohibits PMA companies from directly selling their goods to retailers. According to this regulation, PMA companies have to appoint a local distributor/agent to sell goods to a retailer. Then the retailer can sell the original products to consumers. Therefore, PMA companies must add another layer to their distribution chains, which will likely increase the price of their products.
This means that companies must appoint reliable local distributors/agents. Moreover, they have to find local partners with experience in their industry. They should conduct a background investigation before signing any agreement to ensure that the distributor/agent is registered as a national trading company and to check the distributor/agent's track record. In addition, a foreign investor cannot appoint a local partner and assume that they can sell their products in Indonesia. Instead all parties must follow a multi-step process:
The foreign investor and their designated local partner have to complete a distributorship agreement and letter of appointment.
The local partner must register with the Ministry of Trade to become the distributor/agent of the foreign firm. This step requires numerous documents:

A copy of the local partner's trading license
A copy of the local partner's certificate registration
A copy of the distributorship agreement, which has been legalized by a public notary office in the foreign firm's home country
A copy of the certificate of the Indonesian commercial attaché/official in the foreign firm's home country
Application letter and form
A copy of the Deed of Establishment and/or Deed of Amendment of the local partner, which has been approved by authorities
The original versions of product or service catalogues/brochures/leaflets created by the foreign firm
A copy of licenses or other certificates of registration published by technical agencies related to the products in accordance with regulations
Note: In addition to these forms, the foreign firm must be able to provide documents for specific types of distributors/agencies. Local liability companies and suppliers have to fill out another set of forms.
The Ministry of Trade will give the distributor/agent a certificate of registration (STP) within five working days. The ministry will only issue one STP for one distributor/agent, one type of good from one brand, and for a single marketing region. If the foreign individual/company attempts to appoint multiple distributors/agents, the ministry will grant the STP to the first applicant. The STP will be valid for a minimum of two years unless otherwise specified in the original agreement.
This process enables a foreign individual/firm to sell their products to Indonesian consumers without establishing a local company.

 RELATED: The Guide to Corporate Establishment in Indonesia
Distribution Via Local Establishment
Alternatively, a foreign individual/firm can found a PMA company in Indonesia. Foreign investors may want to establish an Indonesian business entity after they have decided whether their firm has significant potential in Indonesia or not and if it would benefit from an increased operational presence. PMA companies must possess an import license if they plan to bring foreign products into Indonesia. But importing different goods requires various types of import licenses:
API-U (General Import License) – these licenses are given to companies that import goods to be traded. Companies obtain these licenses if they want to sell and distribute their products in the country.
API-P (Producer Import License) – these licenses are given to firms that are importing goods for their own uses. Companies get these licenses if they want to import goods that support production, including capital goods (machinery, equipment, etc.) and raw materials (chemicals, metals, etc.). An API-P holder cannot trade or transfer imported goods to a third party unless the products are imported through an import duty exemption facility and have been used by the original company for at least two years after the date of the Import Declaration Form.
Companies must obtain an API-U or an API-P if they wish to import goods into Indonesia. Importers may only hold one type of API, an API-U (traders and distributors) or an API-P (producers). APIs are valid as long as the license holder conducts business activity. But firms must reregister their APIs with the Investment Coordinating Board every five years.
Pricing in Import Cost and Compliance
In addition to this complex licensing process, firms hoping to import their products face a variety of import tariffs. Import duties vary by good and country of origin. In countries with which Indonesia has signed free trade agreements (FTAs), such as the ASEAN region, there may not be any import taxes for certain goods. However, the Indonesian government has upheld significant tariffs on numerous imported goods, including: clothing (20-25 percent), coffee and tea (20 percent), alcohol (150 percent), meat (30 percent), and motor vehicles (50 percent). These taxes may deter investors outside of Indonesia's FTA partners from bringing some products into the archipelago.
Finding a suitable distributor/agent and obtaining an import permit is often a complex and lengthy process. Newcomers to Indonesia may waste valuable time choosing the wrong local partner. Foreign individuals/firms that want to import products into Indonesia will likely have to wait at least four months to get an import license. These steps may discourage foreign investors, from multinational companies interested in importing a new product to a small firm looking to enter a new market.
Furthermore, distribution processes as well as the steps to acquire an import permit vary depending on the type of product. For instance, an investor who wants to get an API-U to import food products into Indonesia must obtain approval from the Ministry of Agriculture and the National Agency of Drug and Food Control. A foreign firm that is interested in importing alcohol into Indonesia is required to have three years of experience in distributing alcoholic beverages in order to register with the MOT. Firms that want to import smartphones must manufacture their products in Indonesia. However, importing a different product may require fulfilling local content and domestic manufacturing requirements. These examples illustrate that there is no uniform method to distribute goods in Indonesia and there are significant differences in acquiring import permits for certain products. Foreign companies should keep abreast of regulatory changes in Indonesia and contact their partners on the ground in order to prepare for uncertainty in distributing and importing products.
Optimizing Distribution in Indonesia
Despite the challenges faced by distributors in Indonesia, the process of selling goods within the country does not have to be frustrating and expensive. Dezan Shira & Associates and its Indonesian partner, Winnindo Business Consult, can help foreign investors establish a distribution chain or import their goods. Both companies have connections to local distributors/agents in a variety of industries. The Dezan Shira & Associates Alliance can introduce foreign firms to trusted local partners who are knowledgeable about their industry in Indonesia.
Furthermore, the Dezan Shira & Associates Alliance can help foreign individuals/firms import their products through two services: corporate establishment or import services. Import services are ideal for companies that want to bring a small volume of a product into the country or only import goods a few times. Instead of setting up a corporate entity in Indonesia, the Dezan Shira & Associates Alliance can serve as an undername importer for the foreign individual/firm. An undername importer is a local company that already has the license for certain products to be imported. This service will manage a foreign investor's freight forwarding and customs clearance so that their products will be brought safely into the country.

About Us
Asia Briefing Ltd. is a subsidiary of Dezan Shira & Associates. Dezan Shira is a specialist foreign direct investment practice, providing corporate establishment, business advisory, tax advisory and compliance, accounting, payroll, due diligence and financial review services to multinationals investing in Indonesia, China, Hong Kong, India, Vietnam, Singapore and the rest of ASEAN. For further information, please email indonesia@dezshira.com or visit www.dezshira.com. Stay up to date with the latest business and investment trends in Asia by subscribing to our complimentary update service featuring news, commentary and regulatory insight.
 ‍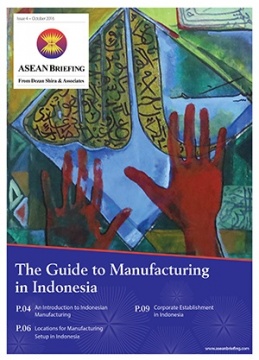 The Guide to Manufacturing in Indonesia
Choosing if, where, and how to establish foreign manufacturing operations in Indonesia can be a significant challenge. While the archipelago's vast diversity may initially seem daunting, a number of options are available which will allow entry and operations to be conducted in a seamless manner.In this issue of ASEAN Briefing, we discuss the growing importance of Indonesia as a hub for manufacturing within Southeast Asia, and provide guidance on how to select and establish operations within the country.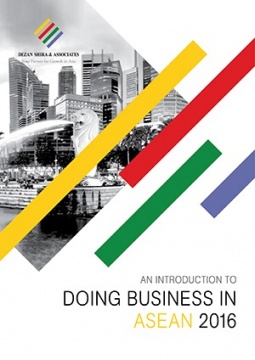 An Introduction to Doing Business in ASEAN 2016
An Introduction to Doing Business in ASEAN 2016 introduces the fundamentals of investing in the 10-nation ASEAN bloc, concentrating on economics, trade, corporate establishment and taxation.We also include the latest development news in our "Important Updates" section for each country, with the intent to provide an executive assessment of the varying component parts of ASEAN, assessing each member state and providing the most up-to-date economic and demographic data on each.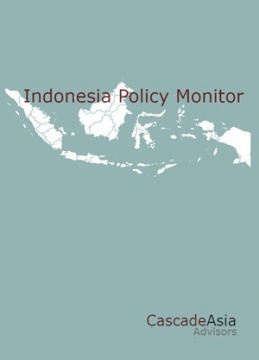 Indonesia Policy Monitor: October 2016
Indonesia presents a host of challenges that can impede the ability of foreign business players from operating at full stride. Among these challenges, the multiple and often overlapping layers of policy making and regulations makes for a complicated operating environment. Cascade Asia developed the Indonesia Policy Monitor as a complementary service to help foreign companies monitor newly passed and pending legislation and regulations.