Employing Local Workers in Indonesia    
By: Dezan Shira & Associates
Editor: Samuel Glickstein
In order for a foreign firm to thrive in Indonesia, it must adapt to the country's labor laws and human resource procedures. Although there is some space for flexibility in human resource management in Indonesia, the country's labor laws and regulations have established firm protections for workers. Employers who violate these obligations will likely face significant legal repercussions. Therefore, it is paramount that employers learn about Indonesian manpower laws and the expectations that they may encounter when they interact with local workers.

 RELATED: Labor Contract Drafting Services from Dezan Shira & Associates
Employment Categories
Law No. 13 of 2003 on Manpower ("Labor Law") divides employer-worker relationships into two categories:
Definite period of employment – an employment agreement between a worker and an employer for a specific period of time. People who are employed under a definite period of employment agreement are referred to as "contract workers". The Labor Law stipulates that definite period of employment agreements are only valid for certain types of work:

work to be performed or completed at once; temporary work
work that is estimated to be finished within a certain period of time but may not be longer than three years
seasonal work
work that is related to a new product, new activity, or an additional product that is still in the experimental stage
Indefinite period of employment – an employment agreement between a worker and an employer for a permanent position. The Labor Law states that the two parties may make a verbal agreement or put their agreement in writing. However, the parties should only make an oral agreement if circumstances prevent them from creating a written contract.
Employment Agreements/Contracts
The Indonesian government has mandated that any agreement involving an Indonesian citizen must be in Bahasa Indonesia or have a bilingual version. The Labor Law states that if there is any inconsistency in the bilingual versions of the employment agreement then the Bahasa Indonesia document will prevail.
All written employment agreements must include the following information:
The employer's name, address, and type of business
The worker's name, age, sex, and address
The worker's position or their type of work
The place where the work will be conducted
The worker's salary and how they will be paid
The terms and conditions of employment explaining the rights and obligations of the employer and the worker
The date and time period of the employment contract
The place and date of the execution of the employment agreement
Hiring Process
Both parties must first sign the employment agreement. A manager must then register any contract for a worker who is employed for a definite period with the Ministry of Manpower.
Working Hours
The Labor Law contends that Indonesian employees can work a maximum of 40 hours per week. These hours can be distributed in two ways:
Seven hours per day, six days a week
Eight hours per day, five days a week
The government has banned firms from employing the following workers between the hours of 11 pm – 7 am:
Female employees who are less than 18 years old
Pregnant employees who risk damaging their health, their safety, or the safety of their unborn child if they work. These employees must provide a doctor's note that shows evidence of these issues.
Managers who would like their employees to work outside of normal hours are obligated to pay overtime wages. An employer does not have to pay their worker overtime if the worker's position is defined as a "thinker, planner, implementer, or controller" whose working hours cannot be limited to the standard schedule. Although these types of workers are not permitted to receive overtime pay, they are allowed to have a higher salary than that of ordinary employees.
An employee must consent to perform overtime work. Overtime can only be performed for a maximum of 3 hours per day or 14 hours per week. This restriction does not apply for overtime work that is performed on Saturdays, Sundays, or public holidays. The employer is obligated to provide food and beverages if a worker performs 3 hours or more of overtime. Overtime pay is based on a worker's monthly salary and fixed allowances.
Workers have the right to rest for a minimum of 30 minutes after 4 continuous hours of work.

 RELATED: An Introduction to Indonesia's Renewable Energy Industry
Probation Period
A firm may not put on probation a worker whose employment agreement is not for an indefinite period of time. The maximum probation period for a worker whose employment contract is for an indefinite period is three months. The employer must pay the worker wages at or above the applicable minimum wage during the probationary period.
Public Holidays and Annual Leave
The Labor Law states that employees are not required to work during holidays. If a firm obligates an employee to work during public holidays, then the employee must receive overtime pay. The majority of public holidays in Indonesia are religious holidays and are based on a different calendar. This means that the exact dates of public holidays change every year.
According to the Labor Law, an employee in Indonesia has the right to 12 days of annual leave per year after they have worked for a company for 12 consecutive months. The firm may postpone the ability of the worker to take annual leave for a maximum period of six months if the company can prove that it is in their interest to perform this action. If the worker does not take their annual leave (and the company does not postpone it), these vacation days will expire six months after the worker gains their annual leave rights.
Maximizing Local Manpower in Indonesia
This article has demonstrated some of the intricacies of employer obligations in Indonesia. The Labor Law protects the interests of workers and requires firms to offer their staff more than just salaries. These requirements as well as the fact that it is difficult to recruit qualified workers in Indonesia can cause headaches for established firms in Indonesia and may present formidable roadblocks for companies testing this intriguing market. Dezan Shira & Associates and its Indonesian partner, Winnindo Business Consult, have experience advising firms on human resource management in the archipelago. The Dezan Shira & Associates Alliance offers its clients an extensive network of contacts to help satisfy all of their hiring and recruitment needs. The Alliance also has experience advising foreign firms on employment contracts and fulfilling their employer obligations.

About Us
Asia Briefing Ltd. is a subsidiary of Dezan Shira & Associates. Dezan Shira is a specialist foreign direct investment practice, providing corporate establishment, business advisory, tax advisory and compliance, accounting, payroll, due diligence and financial review services to multinationals investing in Indonesia, China, Hong Kong, India, Vietnam, Singapore and the rest of ASEAN. For further information, please email indonesia@dezshira.com or visit www.dezshira.com. Stay up to date with the latest business and investment trends in Asia by subscribing to our complimentary update service featuring news, commentary and regulatory insight.
 ‍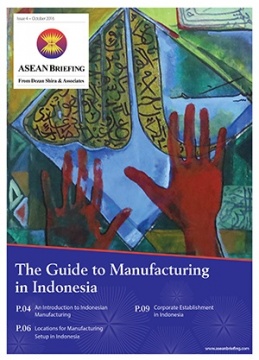 The Guide to Manufacturing in Indonesia
Choosing if, where, and how to establish foreign manufacturing operations in Indonesia can be a significant challenge. While the archipelago's vast diversity may initially seem daunting, a number of options are available which will allow entry and operations to be conducted in a seamless manner.In this issue of ASEAN Briefing, we discuss the growing importance of Indonesia as a hub for manufacturing within Southeast Asia, and provide guidance on how to select and establish operations within the country.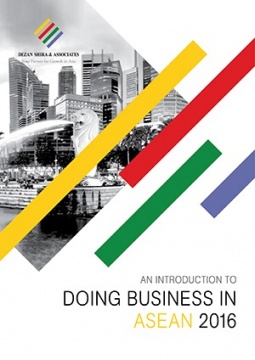 An Introduction to Doing Business in ASEAN 2016
An Introduction to Doing Business in ASEAN 2016 introduces the fundamentals of investing in the 10-nation ASEAN bloc, concentrating on economics, trade, corporate establishment and taxation.We also include the latest development news in our "Important Updates" section for each country, with the intent to provide an executive assessment of the varying component parts of ASEAN, assessing each member state and providing the most up-to-date economic and demographic data on each.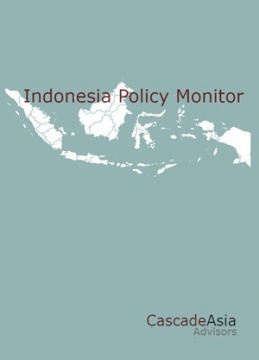 Indonesia Policy Monitor: October 2016
Indonesia presents a host of challenges that can impede the ability of foreign business players from operating at full stride. Among these challenges, the multiple and often overlapping layers of policy making and regulations makes for a complicated operating environment. Cascade Asia developed the Indonesia Policy Monitor as a complementary service to help foreign companies monitor newly passed and pending legislation and regulations.