Government Regulations Aim to Add Value to Indonesia's Mining Industry
By: Winnindo R&D Team
Editor: Samuel Glickstein
The Indonesian government recently published its fourth revision of Regulation No. 23 2010, which governs the country's mineral and coal mining sector.
The government also published two decrees for the Ministry of Energy and Mineral Resources to implement the regulation: Ministerial Decree No. 5 and Ministerial Decree No. 6. Ministerial Decree No. 5 concerns the increase of the added value of minerals for domestic processing and purification and Ministerial Decree No. 6 Year involves the export agreement.

RELATED: Business Advisory Services from Dezan Shira & Associates
According to Ministerial Decree No. 5, holders of mining production and operation licenses, special mining production and operation licenses, as well as mining production and operation licenses that specialize in processing and purification are obligated to fulfill minimum processing and/or purification requirements. Companies may process and purify minerals individually or through joint ventures.
In addition, this decree stated that low-grade nickel that is less than 1.7 percent and low-grade bauxite that is less than 42 percent must be purified at a minimum of 30 percent of smelter capacity. If the domestic demand for low-grade nickel and low-grade bauxite is met, the unpurified surplus of minerals can be exported.
However, the work contract holder can only sell their purified products to foreign markets after they meet the minimum purification requirement. The government has provided an opportunity for work contract holders as well as holders of different types of mining production and operation licenses to sell their mineral concentrate overseas for the next five years. This period began on the date that the government issued both Ministerial Decrees.
The requirement to change from work contracts to special mining production and operation licenses commits each firm to build a smelter. Firms must also pay a maximum 10 percent in exit customs according to their progress in building smelters. Companies may only export their products after their export application is approved by the Directorate General on behalf of the Minister of Energy and Mineral Resources.

RELATED: Selecting the Optimal Location for Indonesian Manufacturing
Ministerial Decree No. 6 states that before acquiring an export permit, the holder of the mining production and operation license must first obtain approval from the Directorate General.
In order to obtain approval, the holder of the production and operation license must submit an export application to the Minister for Energy and Mineral Resources c.q. Directorate General of Mineral and Coal. Although these decrees have only recently been announced, they have the potential to contribute to the development of Indonesia's mining industry.
About Us
Asia Briefing Ltd. is a subsidiary of Dezan Shira & Associates. Dezan Shira is a specialist foreign direct investment practice, providing corporate establishment, business advisory, tax advisory and compliance, accounting, payroll, due diligence and financial review services to multinationals investing in Indonesia, China, Hong Kong, India, Vietnam, Singapore and the rest of ASEAN. For further information, please email indonesia@dezshira.com or visit www.dezshira.com.
Stay up to date with the latest business and investment trends in Asia by subscribing to our complimentary update service featuring news, commentary and regulatory insight.
Related Reading:
Dezan Shira & Associates is a pan-Asia, multi-disciplinary professional services firm, providing legal, tax and operational advisory to international corporate investors. Operational throughout China, ASEAN and India, our mission is to guide foreign companies through Asia's complex regulatory environment and assist them with all aspects of establishing, maintaining and growing their business operations in the region. This brochure provides an overview of the services and expertise Dezan Shira & Associates can provide.
---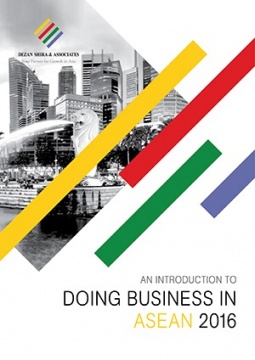 An Introduction to Doing Business in ASEAN 2016 introduces the fundamentals of investing in the 10-nation ASEAN bloc, concentrating on economics, trade, corporate establishment and taxation.We also include the latest development news in our "Important Updates" section for each country, with the intent to provide an executive assessment of the varying component parts of ASEAN, assessing each member state and providing the most up-to-date economic and demographic data on each.
---

Indonesia stands out in the ASEAN region for its competitive wages, large labor pool, and burgeoning domestic market. With a population exceeding 250 million, the country is poised to become an immensely lucrative market as it develops further and the urban consumption class continues to grow. In this inaugural issue of Indonesia Briefing magazine, we examine these trends, and highlight how Indonesia has made enormous strides in streamlining and liberalizing its business environment.
---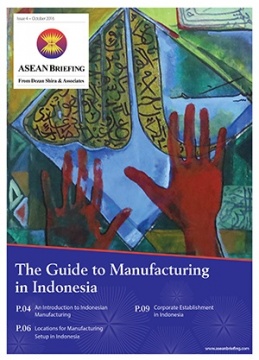 Choosing if, where, and how to establish foreign manufacturing operations in Indonesia can be a significant challenge. While the archipelago's vast diversity may initially seem daunting, a number of options are available which will allow entry and operations to be conducted in a seamless manner.In this issue of ASEAN Briefing, we discuss the growing importance of Indonesia as a hub for manufacturing within Southeast Asia, and provide guidance on how to select and establish operations within the country.