Il trattamento fiscale degli uffici di rappresentanza in Indonesia
A cura dell'Italian Desk di Dezan Shira & Associates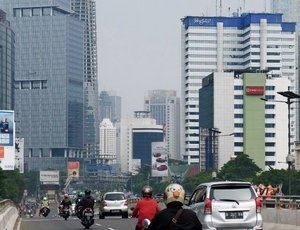 Recentemente, in Indonesia, si sono verificati numerosi casi di evasione fiscale. L'autorità tributaria del Paese ha intrapreso una serie di politiche volte alla lotta all'evasione, soprattutto contro società tecnologiche estere (tech firms). Il caso più eclatante riguarda Google, che presumibilmente ha utilizzato un ufficio di rappresentanza (representative office – RO) in Indonesia per svolgere le proprie attività commerciali nel paese, trasferendo al contempo tutti gli utili imponibili in un'entità off-shore a Singapore. Come riportato da diverse fonti governative, l'Indonesia intende chiedere a Google, o meglio ad Alphabet, la capogruppo che include tutte le attività del colosso del web, cinque anni di tasse arretrate che Big G non avrebbe pagato. Tuttavia, il caso di Google non è raro; infatti, molti investitori hanno adottato il medesimo approccio creando entità off-shore per aggirare il fisco.

RELATED: Consulenza Pre-Investimento e di Strategia d'Ingresso
Sebbene in precedenza questa strategia fosse considerata a basso rischio e ideale per evitare la tassazione in Indonesia, oggi la repressione da parte delle autorità tributarie dimostra quanto sia essenziale per gli investitori, anche quelli che utilizzano ROs nel paese, adottare misure idonee per garantire la piena conformità normativa in materia fiscale. Pertanto, per evitare il destino di Google e di altre aziende, è indispensabile avere una solida comprensione delle norme fiscali e legali. Inoltre, tenuto conto della complessità di tali regolamenti, l'assistenza di esperti è utile per evitare onerose perdite.
Trattamento fiscale degli uffici rappresentativi
Gli uffici di rappresentanza non possono svolgere attività produttive o commerciali in senso proprio. Pertanto, molti imprenditori assumono erroneamente che le uniche trattenute siano quelle sugli stipendi dei dipendenti. Tuttavia, l'autorità tributaria in Indonesia ha messo in atto regolamentazioni per il trattamento fiscale degli uffici, stabilendo che se il RO svolge attività a scopo di lucro, nonostante i ricavi siano versati direttamente nelle casse di un'entità off-shore, allora tali attività sono soggette a una tassazione del reddito societario (l'equivalente dell'IRES italiana).

RELATED: Verifica e revisione fiscale
Gli uffici di rappresentanza costituiscono una classe speciale di contribuenti, con calcoli fiscali specifici. L'aliquota fiscale corrente in questa categoria è dello 0,44 per cento del Gross Export Values (GEVs). I GEVs sono valori sostitutivi complessivi per i ricavi di una società estera che gestisce un RO in Indonesia. Questi ricavi derivano da beni o servizi erogati dall'ufficio a persone o entità aziendali situate in Indonesia. Inoltre, se l'ufficio di rappresentanza risulta essere impegnato in attività orientate alla generazione di profitto per conto della società madre, allora la società madre è responsabile per l'imposta sul reddito delle filiali a seconda del trattato fiscale stabilito tra l'Indonesia e il paese d'origine della casa madre.
Chi Siamo
Asia Briefing Ltd. è una controllata di Dezan Shira & Associates. Dezan Shira & Associates è una società di consulenza specializzata nell'assistenza agli investimenti diretti esteri per le società che intendono stabilire, mantenere e far crescere le loro operazioni in Asia. I nostri servizi includono consulenza legale e strategica all'investimento, costituzione e registrazioni societarie, tenuta contabile con redazione di bilanci periodici ed annuali, consulenza fiscale e finanziaria, due diligence, revisione contabile, gestione tesoreria, libri paga e personale, transfer pricing, consulenza IT, sistemi gestionali, deposito marchi e servizio visti. Per maggiori informazioni vi invitiamo a contattarci al seguente indirizzo: italiandesk@dezshira.com o a visitare il nostro sito: www.dezshira.com.
Per rimanere aggiornati sugli ultimi trend degli investimenti e del business in Asia, iscrivetevi alla nostra newsletter per ricevere notizie, commenti, guide e risorse multimediali.

Dezan Shira & Associates is a pan-Asia, multi-disciplinary professional services firm, providing legal, tax and operational advisory to international corporate investors. Operational throughout China, ASEAN and India, our mission is to guide foreign companies through Asia's complex regulatory environment and assist them with all aspects of establishing, maintaining and growing their business operations in the region. This brochure provides an overview of the services and expertise Dezan Shira & Associates can provide.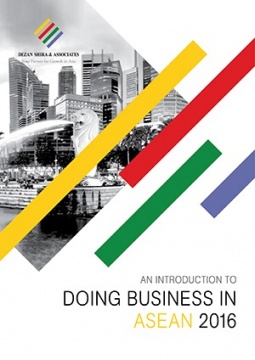 An introduction to doing business in ASEAN 2016
An Introduction to Doing Business in ASEAN 2016 introduces the fundamentals of investing in the 10-nation ASEAN bloc, concentrating on economics, trade, corporate establishment and taxation.We also include the latest development news in our "Important Updates" section for each country, with the intent to provide an executive assessment of the varying component parts of ASEAN, assessing each member state and providing the most up-to-date economic and demographic data on each. 

An introduction to foreign investment in Indonesia
Indonesia stands out in the ASEAN region for its competitive wages, large labor pool, and burgeoning domestic market. With a population exceeding 250 million, the country is poised to become an immensely lucrative market as it develops further and the urban consumption class continues to grow. In this inaugural issue of Indonesia Briefing magazine, we examine these trends, and highlight how Indonesia has made enormous strides in streamlining and liberalizing its business environment. 
The guide to manufacturing in Indonesia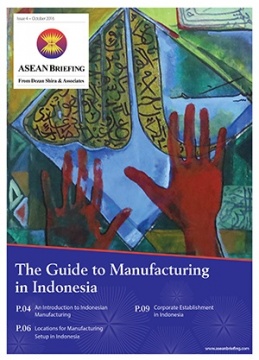 Choosing if, where, and how to establish foreign manufacturing operations in Indonesia can be a significant challenge. While the archipelago's vast diversity may initially seem daunting, a number of options are available which will allow entry and operations to be conducted in a seamless manner.In this issue of ASEAN Briefing, we discuss the growing importance of Indonesia as a hub for manufacturing within Southeast Asia, and provide guidance on how to select and establish operations within the country.