Indonesia Financial Accounting Standard (IFAS) 70 in Support of Tax Amnesty Program
As a supporting action of the Institute of Indonesian Chartered Accountants (Ikatan Akuntan Indonesia / IAI) for Indonesia's Tax Amnesty program, the Financial Accounting Standard Board (Dewan Standar Akuntansi Keuangan / DSAK) has released Indonesia Financial Accounting No. 70 concerning Accounting for Tax Amnesty Assets & Liabilities. This standard provides guidance for entity preparing financial reports in the wake of the recently applied Tax Amnesty Law. This standard also provides guidance for entities hoping to avoid financial accounting misstatements in the future under the amnesty program.
Indonesia's Tax Amnesty: A Quick Background
Indonesia has had a Tax Amnesty program in place since July of 2016, which will run until March 2017. The general purpose of this program is to increase tax revenue of the current year, improve tax compliance in the future, and increase overseas fund repatriation. To participate in the Amnesty, Indonesia taxpayers are required to declare any additional assets and liabilities (domestic and overseas) which has not been reported in the last annual tax filing (2015 being the cut-off year). As a penalty, those declaring assets under the amnesty will be required to pay a percentage of the net assets declared (depending on the location and time during which these assets are declared) which can range from 2 to 10 percent. Defined by the authorities as redemption money, penalties have been touted as a means of increasing government revenue.

Assets which have been declared through the program have thus far reached IDR 2,514 trillion (equivalent to US$193 billion), consisting of both overseas and domestic assets. Meanwhile, redemption money paid to the State Treasury has increased government coffers to the tune of IDR 81 trillion (equivalent to USD 6 billion).
Accounting Treatment Under IFAS 70
IFAS 70 provides accounting policy choices for an entity that recognizes assets and liabilities in accordance with the Tax Amnesty Law based on its Declaration Letter for Tax Amnesty (Surat Pernyataan Harta untuk Pelaporan Pajak / SPHPP).
Alternative accounting options for amnesty declaration include:
– 1st option: Following relevant IFAS according to nature of its assets / liabilities recognition (IFAS 70 par. 06), or
– 2nd option: Following specific provisions on IFAS 70 which is explained furthermore on IFAS 70 par. 10 to 23.
The differences between the two alternatives related to the measurement, presentation, and disclosures of assets and liabilities. Whatever option is selected, it must be consistently applied for all Tax Amnesty assets and liabilities.
For determining whether an entity should utilize options outlined under IFAS 70, the declaration of assets is the standard by which use will be judged. If  the entity in question will recognize assets and liabilities in their financial statement as part of the Amnesty program, then the entity should apply PSAK 70. This standard can also be applied to entities without significant public accountability.
According to IFAS 70, the initial recognition of Tax Amnesty assets and liabilities are recorded at cost (according to values stated in the Declaration Letter).  The differences between Tax Amnesty assets and liabilities are recognized as part of Additional Paid-in Capital (APIC) on Equities. This APIC may not be recycled to profit or loss or reclassified to Retained Earnings. Paid redemption money is recognized on profit or loss of the period when the Amnesty Letter (Surat Keterangan Pengampunan Pajak / SKKP) is released.
As stated in the Tax Amnesty Law, the receipt of the Amnesty Letter will result, among other things, in waivers of tax dues and tax administrative sanctions (in the form of interest and penalties) and discontinuation of any ongoing tax audit for all tax obligations for the fiscal periods up to the end of the latest fiscal year. As a result , any balance that relates to tax disputes (e.g. claims for tax refunds, provision for any uncertain tax positions, deferred tax related to tax loss carry forward, etc.) shall be written off. The outstanding balance should be adjusted to the profit or loss in the period when the Amnesty Letter is released.
Recalculation of Asset Value
Re-measurement of Tax Amnesty assets and liabilities refers to relevant IFAS based on nature of each asset / liability. Under the amnesty program, the entity is allowed, but not obliged, to re-measure fair values of Tax Amnesty assets and liabilities according to relevant IFAS at the date of Amnesty Letter (IFAS 70 Par. 16). When the entity chooses to re-measure, any difference arising from the amount of initial recognition will be adjusted to APIC.
If, after Tax Amnesty, the entity has control of another entity, then the entity is still allowed to measure investment on subsidiary values using the cost method first. Subsequently, the entity is required to re-measure Tax Amnesty assets and liabilities at the Amnesty Letter's date and simultaneously apply consolidation procedures according to IFAS 65: Consolidated Financial Statement. The re-measurement may be performed starting from the Amnesty Letter's date until December 31, 2017. Any difference arising from the initial and re-measurement amount should be adjusted to APIC.
Presentation and Disclosures
By applying the IFAS 70, an entity will be required to present and disclose Tax Amnesty assets and liabilities separately from existing assets and liabilities. However, this standard provides options for an entity to reclassify Tax Amnesty assets and liabilities to fit its current structure of assets and liabilities (IFAS 70 par. 16-17) as long as it fulfills provisions according to IFAS 70. Entities instead have to disclose the date and amount of Tax Amnesty assets and liabilities as recognized on the Declaration Letter.

About Us
Asia Briefing Ltd. is a subsidiary of Dezan Shira & Associates. Dezan Shira is a specialist foreign direct investment practice, providing corporate establishment, business advisory, tax advisory and compliance, accounting, payroll, due diligence and financial review services to multinationals investing in Indonesia, China, Hong Kong, India, Vietnam, Singapore and the rest of ASEAN. For further information, please email indonesia@dezshira.com or visit www.dezshira.com. Stay up to date with the latest business and investment trends in Asia by subscribing to our complimentary update service featuring news, commentary and regulatory insight.
 ‍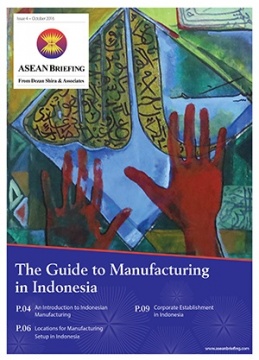 The Guide to Manufacturing in Indonesia
Choosing if, where, and how to establish foreign manufacturing operations in Indonesia can be a significant challenge. While the archipelago's vast diversity may initially seem daunting, a number of options are available which will allow entry and operations to be conducted in a seamless manner.In this issue of ASEAN Briefing, we discuss the growing importance of Indonesia as a hub for manufacturing within Southeast Asia, and provide guidance on how to select and establish operations within the country.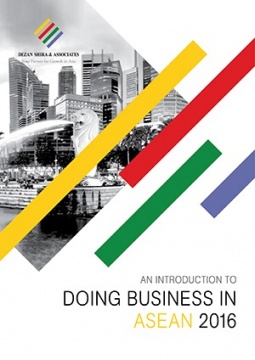 An Introduction to Doing Business in ASEAN 2016
An Introduction to Doing Business in ASEAN 2016 introduces the fundamentals of investing in the 10-nation ASEAN bloc, concentrating on economics, trade, corporate establishment and taxation.We also include the latest development news in our "Important Updates" section for each country, with the intent to provide an executive assessment of the varying component parts of ASEAN, assessing each member state and providing the most up-to-date economic and demographic data on each.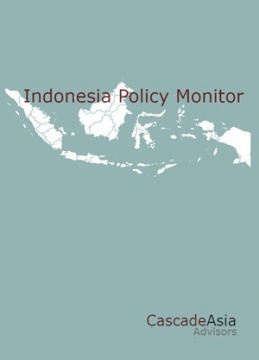 Indonesia Policy Monitor: October 2016
Indonesia presents a host of challenges that can impede the ability of foreign business players from operating at full stride. Among these challenges, the multiple and often overlapping layers of policy making and regulations makes for a complicated operating environment. Cascade Asia developed the Indonesia Policy Monitor as a complementary service to help foreign companies monitor newly passed and pending legislation and regulations.