Indonesia Has Huge January 2017 Import-Export Surge 
Indonesia's trade had a huge boost in January this year as it soared to a US$1.4 billion surplus, way up from US$10 million in January 2016. Also encouraging was the increase in the non-oil and gas exports, up 29.2 percent Y0Y to US$9.4 billion, while imports in the non-oil and gas sector also rose to 14.5 percent at just under USD12 billion.

 RELATED: Corporate Establishment Services from Dezan Shira & Associates
This suggests that Indonesian businesses have finally shrugged off their late response to the China-ASEAN Free Trade Agreement, which when instigated in 2010 initially saw Indonesian-made products  swamped by cheaper and faster turn-around from Chinese competitors, and traditional Indonesian exports markets elsewhere in ASEAN also challenged by Chinese exporters.
"Indonesians have stood up to the China challenge and have shown they can compete" says Chris Devonshire-Ellis of Dezan Shira & Associates "After the initial shock of competing with China in free trade they are now competitive and indeed taking some manufacturing investment away, and especially so from South China. Improving infrastructure, lower operating costs and a closing of the productivity gap means Indonesia is rapidly becoming an ASEAN export tiger with healthy domestic consumption hand in hand with that. It's a very healthy mix for foreign investors."  
The Indonesian government has also started to develop its strategy to boost exports in 2018 to support its ambitious target for economic growth of 6.1 percent for that year. "The target is far from this year's (2017) goal of 5.1 percent, so we need to revise our trade strategy for next year," Trade Ministry secretary general Karyanto Suprih said at a media briefing in Jakarta on Friday.
The blueprint for Indonesia achieving its 2018 export targets and the inclusion of incentives to do so will be released by the Government in May, and will be discussed on Indonesia Briefing at that time.

About Us
Asia Briefing Ltd. is a subsidiary of Dezan Shira & Associates. Dezan Shira is a specialist foreign direct investment practice, providing corporate establishment, business advisory, tax advisory and compliance, accounting, payroll, due diligence and financial review services to multinationals investing in Indonesia, China, Hong Kong, India, Vietnam, Singapore and the rest of ASEAN. For further information, please email indonesia@dezshira.com or visit www.dezshira.com. Stay up to date with the latest business and investment trends in Asia by subscribing to our complimentary update service featuring news, commentary and regulatory insight.
 ‍

Dezan Shira & Associates Brochure
Dezan Shira & Associates is a pan-Asia, multi-disciplinary professional services firm, providing legal, tax and operational advisory to international corporate investors. Operational throughout China, ASEAN and India, our mission is to guide foreign companies through Asia's complex regulatory environment and assist them with all aspects of establishing, maintaining and growing their business operations in the region. This brochure provides an overview of the services and expertise Dezan Shira & Associates can provide.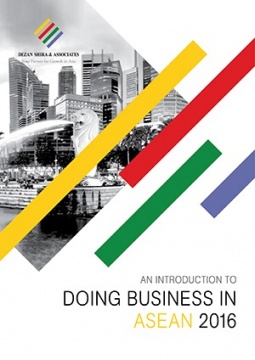 An Introduction to Doing Business in ASEAN 2016
An Introduction to Doing Business in ASEAN 2016 introduces the fundamentals of investing in the 10-nation ASEAN bloc, concentrating on economics, trade, corporate establishment and taxation.We also include the latest development news in our "Important Updates" section for each country, with the intent to provide an executive assessment of the varying component parts of ASEAN, assessing each member state and providing the most up-to-date economic and demographic data on each.

An Introduction to Foreign Investment in Indonesia
Indonesia stands out in the ASEAN region for its competitive wages, large labor pool, and burgeoning domestic market. With a population exceeding 250 million, the country is poised to become an immensely lucrative market as it develops further and the urban consumption class continues to grow. In this inaugural issue of Indonesia Briefing magazine, we examine these trends, and highlight how Indonesia has made enormous strides in streamlining and liberalizing its business environment.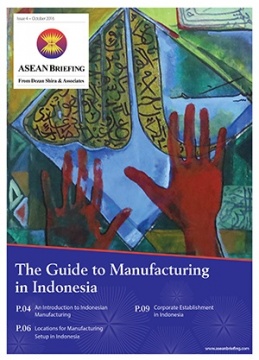 The Guide to Manufacturing in Indonesia
Choosing if, where, and how to establish foreign manufacturing operations in Indonesia can be a significant challenge. While the archipelago's vast diversity may initially seem daunting, a number of options are available which will allow entry and operations to be conducted in a seamless manner.In this issue of ASEAN Briefing, we discuss the growing importance of Indonesia as a hub for manufacturing within Southeast Asia, and provide guidance on how to select and establish operations within the country.