Indonesia's Investment Outlook for 2018
By: Vasundhara Rastogi
Strategically positioned along major sea lines connecting East Asia, South Asia, and Oceania, Indonesia holds a natural appeal for foreign investors. The country is the largest archipelago in the world, consisting of five main islands – Java, Sumatra, Kalimantan, Sulawesi, and Papua – and about 30 smaller archipelagos totaling approximately 17,508 islands. Aside from its geographical reach to major international markets, the country houses over 250 million people offering a viable domestic market for investors. In addition, the country has relatively low wage rates, which provide a cost-effective source of manpower for investors.
Economy
Indonesia is rich in natural resources, mainly energy fuels, minerals, and abundant forests that provide important raw materials for industry, thereby offering a comparative advantage for investment. Apart from natural resources, the services and industrial sectors are key economic drivers, accounting for 46 percent and 40 percent of the country's total GDP, respectively.
Major economic sectors include: manufacturing (tobacco, food and beverages, transport equipment and machinery), mining, construction, transport and communication, finance, and real estate. Agriculture contributes a significant 14 percent to the country's GDP.

RELATED: Business Advisory Services from Dezan Shira & Associates
Government initiatives
Over the past few years, the Indonesian government has announced a significant number of deregulation measures designed to improve efficiency and international competitiveness in the economy.
Sectors that have been deregulated include banking and finance, retail and distribution, imports and exports, investment, industrial licensing, shipping, and tourism. The country now ranks at 72, up from 120 in 2015 in the World Banks' Ease of Doing Business index.
In line with its commitment to improving the business and investment climate of Indonesia, the government has released over 14 reform packages since 2015. The measures announced have led to a simplification of approvals and procurement procedures for large-scale infrastructure projects; faster approval of business licenses; a temporary reduction in tax on revalued fixed assets; cuts to energy prices; and changes in the way that minimum wages are calculated.
Further, there has been an expansion in investment in public infrastructure, reduction in government regulation, opening up of new areas to private investment, and changes to corporate tax rules. For instance, the average number of annual tax payments that a firm is required to make came down to 43 in 2017, from 65 in 2015.
Investment climate
Indonesia has a national investment service agency – the Investment Coordinating Board of Indonesia (BKPM), which is responsible for regulating the country's investment conditions. BKPM provides one-stop services for foreign investors in the licensing process.
Currently, foreign direct investment (FDI) in Indonesia is governed by the negative investment list (DNI), which specifies the sectors that are wholly or partially open to foreign investment.
In 2016, the Indonesian authorities rolled out a new DNI, opening more sectors to FDI along with measures to streamline the investment process. New provisions allow 100 percent FDI in the sectors of e-commerce, cold storage, pharmaceuticals manufacturing, and film.
To streamline investment procedure, the Indonesian government has built 70 industrial zones across 13 provinces that provide three-hour investment express service to facilitate foreign investors. Businesses can avail investment incentives such as duty exemption on the import of machines and income tax reduction, given that the investments fall under the designated business fields.
Outlook for 2018
Indonesia has one of strongest economic fundamentals in the region, stable governance and low political risk. Its public debt is well below 30 percent of gross domestic product – one of the lowest among emerging market economies; and inflation, moderating at around 4 percent.
With strong investment and net exports, uplifted by improving global trade conditions and continued recovery in commodity prices, the World Bank expects Indonesia to expand more than 5.3 percent in 2018 – the fastest pace in five years.

About Us
Asia Briefing Ltd. is a subsidiary of Dezan Shira & Associates. Dezan Shira is a specialist foreign direct investment practice, providing corporate establishment, business advisory, tax advisory and compliance, accounting, payroll, due diligence and financial review services to multinationals investing in Indonesia, China, Hong Kong, India, Vietnam, Singapore and the rest of ASEAN. For further information, please email indonesia@dezshira.com or visit www.dezshira.com. Stay up to date with the latest business and investment trends in Asia by subscribing to our complimentary update service featuring news, commentary and regulatory insight.
 ‍
Related Reading:
Dezan Shira & Associates is a pan-Asia, multi-disciplinary professional services firm, providing legal, tax and operational advisory to international corporate investors. Operational throughout China, ASEAN and India, our mission is to guide foreign companies through Asia's complex regulatory environment and assist them with all aspects of establishing, maintaining and growing their business operations in the region. This brochure provides an overview of the services and expertise Dezan Shira & Associates can provide.
---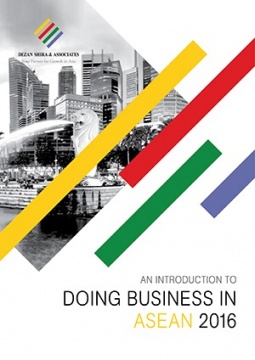 An Introduction to Doing Business in ASEAN 2016 introduces the fundamentals of investing in the 10-nation ASEAN bloc, concentrating on economics, trade, corporate establishment and taxation.We also include the latest development news in our "Important Updates" section for each country, with the intent to provide an executive assessment of the varying component parts of ASEAN, assessing each member state and providing the most up-to-date economic and demographic data on each.
---

Indonesia stands out in the ASEAN region for its competitive wages, large labor pool, and burgeoning domestic market. With a population exceeding 250 million, the country is poised to become an immensely lucrative market as it develops further and the urban consumption class continues to grow. In this inaugural issue of Indonesia Briefing magazine, we examine these trends, and highlight how Indonesia has made enormous strides in streamlining and liberalizing its business environment.
---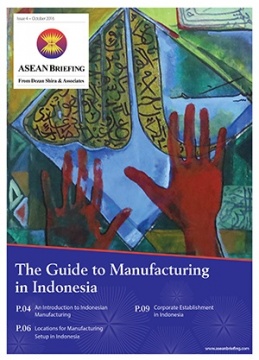 Choosing if, where, and how to establish foreign manufacturing operations in Indonesia can be a significant challenge. While the archipelago's vast diversity may initially seem daunting, a number of options are available which will allow entry and operations to be conducted in a seamless manner.In this issue of ASEAN Briefing, we discuss the growing importance of Indonesia as a hub for manufacturing within Southeast Asia, and provide guidance on how to select and establish operations within the country.