Intellectual Property Rights and Trademarks in Indonesia
By: Dezan Shira & Associates
Editor: Samuel Glickstein
Foreign firms in Indonesia can protect their investments by familiarizing themselves with the country's intellectual property rights (IPR) landscape. Indonesia possesses a strong legal IPR framework that generally meets international standards.  The country is a member of the World Trade Organization (WTO) and has acceded to the Agreement on Trade-related Aspects of Intellectual Property (TRIPs Agreement). Furthermore, Indonesia has ratified most major international IP agreements, including the Paris Convention and the Berne Convention. In 2014 the Indonesian government amended the 2002 Copyright Law to improve the efficiency and effectiveness of the country's IPR system and protect copyright owners. The changes include extending copyright protections for most types of works from 50 years to 70 years after the death of the author, outlawing the illegal upload and download of copyrighted material for commercial purposes, creating harsher penalties and criminal sanctions for copyright violations, and establishing landlord liability for "deliberately and knowingly" permitting the sale or duplication of copyright infringing products.
However, it is difficult to safeguard and enforce IPR in Indonesia. The Office of the United States Trade Representative has placed Indonesia on its Special 301 Priority Watch List, a list of trading partners that experience IPR protection and enforcement issues. Counterfeiting as well as physical and online piracy are common in Indonesia. According to the International Intellectual Property Alliance, 86 percent of business software in the archipelago is unlicensed and retail piracy rates are likely even higher. Investigators from the Directorate General of Intellectual Property (DGIP) do not have authority to arrest people and must cooperate with the police for enforcement action. IP owners in Indonesia must file formal complaints with the police before authorities can take action. Carrying out raids on businesses that violate IPR in Indonesia is an expensive and time-consuming process because the police must interview witnesses.

 RELATED: IP Protection Review Services from Dezan Shira & Associates
The Law on Trademarks and Geographical Indications
The Indonesian government has recently begun to focus on IPR issues. In October 2016 the Indonesian House of Representatives passed the Law on Trademarks and Geographical Indications (the "New Trademark Law") to update the country's trademark provisions to comply with international standards. The law protects non-traditional trademarks that were not covered by previous regulations: 3-D logos, sound marks, and holographic marks.
The New Trademark Law simplifies the trademark application process by establishing minimum filing requirements. The Trademark Office will assign a filing date after the applicant submits a trademark application form, provides the relevant trademark label, and pays all fees. The law also states that a trademark will be published 15 working days after the filing date. But the Indonesian government does not allow individuals/organizations to register some trademarks. These include trademarks that oppose national laws and regulations, morality, contain false information, or are similar to products and services that have already been registered.
Finally, the New Trademark Law attempts to reassure investors by reiterating the government's goal to protect copyright holders. The law contains a provision stating that Indonesia will adopt the International Trademark Application System (the Madrid Protocol) in the future. It also introduces tougher criminal penalties for trademark infringement. Trademark violations that result in damage to health, environment, and/or death can be punished by a prison sentence of up to 10 years and/or a maximum fine of IDR 5 billion.
Registering a Trademark in Indonesia
Although the New Trademark Law streamlines the trademark registration and renewal process, registration can still be lengthy and expensive. The DGIP does not guarantee individuals or organizations that their applications will be approved and it does not refund fees. Applicants can register their trademarks manually or online. The application process can be divided into five steps:
Submission of application – applicants file their documents at the DGIP. Foreign applicants are required to file their applications through local trademark agents that have been appointed as their proxies. The applicant must file forms with their name, address, country of their company's incorporation, a specimen of their trademark, specification of goods and services, and the power of attorney form.
Administrative Examination – the DGIP checks whether the application follows government requirements and has submitted the filing fees. The administrative examination may take up to three months.
Announcement – if the application passes the first examination, the trademark will be announced in the Official Trademark Journal for three months and is open to opposition by other parties.
Substantive Examination – the DGIP examines the application for a maximum of 150 working days from the previous law's nine-month period.
Publication – the New Trademark Law has shortened this process to two months from three months. The DGIP will approve or reject the application.
A trademark in Indonesia is valid for 10 years after the date of approval and can be renewed for the same period of time.

 RELATED: An Introduction to Indonesia's Renewable Energy Industry
Securing IPR and Registered Trademarks
An individual/organization can lose their right to use a trademark even if they have registered it with the DGIP. Indonesian trademark laws state that if an individual/organization does not use their trademark within a period of 3 years from the registration date, the certificate will be revoked.
The state of IPR in Indonesia poses a difficult challenge to firms interested in investing in the archipelago. But Dezan Shira & Associates and its Indonesian partner, Winnindo Business Consult, offer numerous services to mitigate IPR risks in Indonesia. The Dezan Shira Alliance can act as local trademark agents for firms that want to register trademarks and will work with investors throughout the application process. In addition, the alliance advises clients on approaches to conducting IPR enforcement. The Dezan Shira Alliance is prepared to assist investors in criminal or civil enforcement as well as alternative routes, including private mediation.

About Us
Asia Briefing Ltd. is a subsidiary of Dezan Shira & Associates. Dezan Shira is a specialist foreign direct investment practice, providing corporate establishment, business advisory, tax advisory and compliance, accounting, payroll, due diligence and financial review services to multinationals investing in Indonesia, China, Hong Kong, India, Vietnam, Singapore and the rest of ASEAN. For further information, please email indonesia@dezshira.com or visit www.dezshira.com. Stay up to date with the latest business and investment trends in Asia by subscribing to our complimentary update service featuring news, commentary and regulatory insight.
 ‍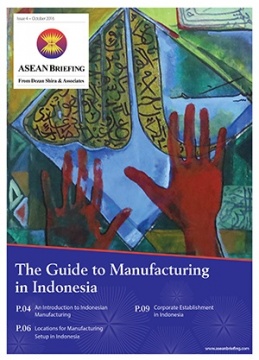 The Guide to Manufacturing in Indonesia
Choosing if, where, and how to establish foreign manufacturing operations in Indonesia can be a significant challenge. While the archipelago's vast diversity may initially seem daunting, a number of options are available which will allow entry and operations to be conducted in a seamless manner.In this issue of ASEAN Briefing, we discuss the growing importance of Indonesia as a hub for manufacturing within Southeast Asia, and provide guidance on how to select and establish operations within the country.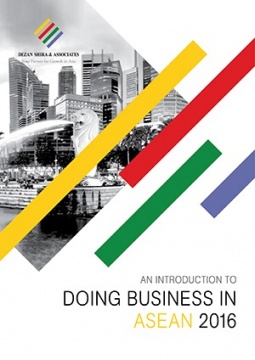 An Introduction to Doing Business in ASEAN 2016
An Introduction to Doing Business in ASEAN 2016 introduces the fundamentals of investing in the 10-nation ASEAN bloc, concentrating on economics, trade, corporate establishment and taxation.We also include the latest development news in our "Important Updates" section for each country, with the intent to provide an executive assessment of the varying component parts of ASEAN, assessing each member state and providing the most up-to-date economic and demographic data on each.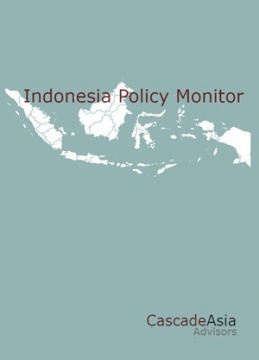 Indonesia Policy Monitor: October 2016
Indonesia presents a host of challenges that can impede the ability of foreign business players from operating at full stride. Among these challenges, the multiple and often overlapping layers of policy making and regulations makes for a complicated operating environment. Cascade Asia developed the Indonesia Policy Monitor as a complementary service to help foreign companies monitor newly passed and pending legislation and regulations.