An Introduction to Indonesia's Renewable Energy Industry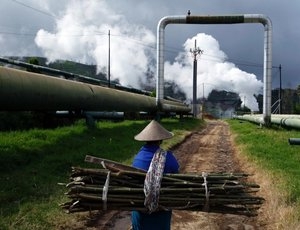 By Samuel Glickstein
Indonesia possesses enormous potential for renewable energy. According to a 2015 report by the International Energy Agency (IEA), the nation has 75 gigawatts (GW) of hydropower potential and 28 GW, or 40 percent, of global geothermal reserves. The report also states that the archipelago holds solar energy potential of approximately 1,200 GW. Although Indonesia's wind power potential is relatively small at less than 1,000 MW due to low wind velocity, this resource has also recently caught the attention of foreign companies.
Investors may consider Indonesia's growing demand for energy as a significant reason to invest in the nation's renewable energy sector. The country's energy consumption has increased rapidly since the early 2000s, aided by a growing economy, rising middle class, and upticks in urbanization. In addition, the country's electrification ratio (the percentage of households that are connected to the power grid) is approximately 82 percent, one of the lowest ratios in the Asia-Pacific region. This means that millions of Indonesians do not have access to electricity. Energy use is set to rise in coming years as the Indonesian government works to reduce poverty and develop remote areas that are not connected to the national power grid.
Indonesia currently lacks adequate clean energy supplies to meet its growing needs. The country relies on fossil fuels for most of its energy supply: oil (38.35 percent), coal (22.21 percent), and gas (17.03 percent). Renewable energy sources make up less than 25 percent of Indonesia's energy supply and less than five percent if traditional biomass, which is used for cooking and heating in rural areas, is excluded from the data.

 RELATED: Pre-Invesment, Market Entry Strategy Advisory
Regulations and tax incentives
The Indonesian government has prioritized the development of its renewable energy sector in order to bolster low supply and to meet growing consumption of energy head on. One of its strategies has been to adopt regulations to promote the domestic renewable industry. This can be seen in the government's 2014 National Energy Policy (NEP14). NEP14 attempts to transform Indonesia's energy sector by reducing oil consumption and expanding renewable resources by over eleven times by 2025. The plan targets a minimum of 23 percent renewable energy consumption by 2025 and 31 percent in 2050.
In order to boost investment in the renewable energy industry, the government has implemented numerous tax incentives for power projects, including:
Tax deduction per year for six years
Import duty exemption for renewable energy-related equipment
Income tax reduction/exemption for five to 10 years
Exemption from value-added tax
Accelerated depreciation of capital and fixed assets
Solar power
Solar power was first introduced in Indonesia in 2010. This sector remains underdeveloped, and according to a 2015 report by Pricewaterhousecoopers, Indonesia's current installed solar energy capacity is only 22 MW, which is mostly composed of solar home systems and small-scale photovoltaic (PV) plants. However, most of Indonesia is located on the equator, giving it exposure to large amounts of sun-intensity year-round. Solar energy may benefit remote areas that are barely connected to the nation's power grid.
In July 2016 the government introduced Indonesia's first feed-in tariffs (FiT) for solar PV projects. Projects have 20-year power purchase agreements (PPA) and tariff rates that vary between US$0.145 – 0.25 kilowatt hours. Yet solar power project development still faces numerous challenges, including high upfront costs and poor quality infrastructure.
Hydropower
Hydropower holds the greatest potential of all renewable energy sources in Indonesia and it is also the most utilized alternative energy resource at approximately 4.4 GW installed capacity. However, most of these resources are located far from Java, Indonesia's most densely populated island, and in areas that have both low demand for power and low electrification rates. Hydropower developers must overcome different challenges for large-scale and micro-scale projects. The areas that have the most potential for large-scale projects are located in remote areas that have poor or nonexistent infrastructure. Micro and mini-hydro projects may encounter different problems such as not being profitable enough, as well as suffering from insufficient local expertise and maintenance.
Although hydropower project development in Indonesia is not easy, several companies have invested resources in these initiatives. The South Korean company, Daelim, and Italian firm Astaldi Group are currently constructing the MW Upper Cisokan plant, a 1,040 MW pumped storage project in Western Java. This joint venture project with Indonesia's Wika will cost approximately US$800 million.

RELATED: Indonesian RO's – Easy Steps for Successful Establishment
Geothermal
Geothermal energy is a sustainable energy that is created and stored in the Earth. Located on the Pacific Ring of Fire and possessing 127 active volcanoes, Indonesia is a potential geothermal energy powerhouse. However, only 1.6 GW of this type of energy has been installed as of 2013.
The government has moved to encourage investment in the geothermal energy in order to boost generation capacity to 6.6 GW by 2025. In 2016 it issued new regulations that allow full foreign ownership for geothermal power plants larger than 10 MW and 67 percent foreign ownership for smaller plants.
Wind power
Wind power is relatively new to Indonesia, as the country's first projects were only installed in 2009. Similar to large-scale hydropower projects, opportunities for major wind power generators are located far from population centers. However, the nation's windiest regions on eastern islands also lack adequate transmission infrastructure.
But the government is interested in building up Indonesia's small and medium-scale wind farms. The country has built 12 wind farms and plans to reach 970 MW of installed wind capacity by 2025. In September 2016 the government signed an agreement with state-owned power company PT PLN and Danish firm Vestas Wind System to build a 60 MW capacity wind-powered plant in South Sulawesi.
The future of renewable energy in Indonesia
Indonesia's strategic location makes it a key destination for foreign investment in renewable energy, particularly solar power, hydropower, and geothermal power. The archipelago's growing consumption of energy as well as the government's interest in boosting its domestic supply of energy resources presents firms with an outstanding opportunity. Foreign companies interested in investing in Indonesia's renewable energy sector may wish to contact the Indonesian government about impending regulatory changes and new investment incentives. In addition, firms can ask Dezan Shira & Associates and its Indonesian partner, Winnindo Business Consult, for tax, legal, and operational advisory solutions on investing in Indonesia's renewable energy industry.

About Us
Asia Briefing Ltd. is a subsidiary of Dezan Shira & Associates. Dezan Shira is a specialist foreign direct investment practice, providing corporate establishment, business advisory, tax advisory and compliance, accounting, payroll, due diligence and financial review services to multinationals investing in Indonesia, China, Hong Kong, India, Vietnam, Singapore and the rest of ASEAN. For further information, please email indonesia@dezshira.com or visit www.dezshira.com. Stay up to date with the latest business and investment trends in Asia by subscribing to our complimentary update service featuring news, commentary and regulatory insight.
 ‍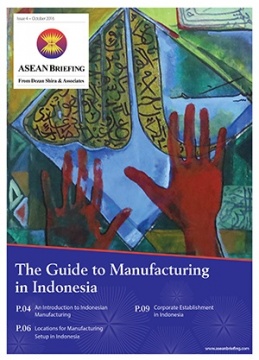 The Guide to Manufacturing in Indonesia
Choosing if, where, and how to establish foreign manufacturing operations in Indonesia can be a significant challenge. While the archipelago's vast diversity may initially seem daunting, a number of options are available which will allow entry and operations to be conducted in a seamless manner.In this issue of ASEAN Briefing, we discuss the growing importance of Indonesia as a hub for manufacturing within Southeast Asia, and provide guidance on how to select and establish operations within the country.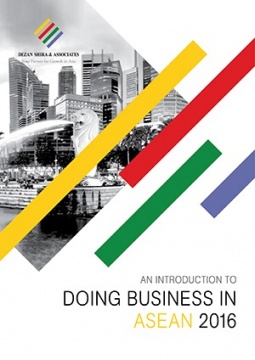 An Introduction to Doing Business in ASEAN 2016
An Introduction to Doing Business in ASEAN 2016 introduces the fundamentals of investing in the 10-nation ASEAN bloc, concentrating on economics, trade, corporate establishment and taxation.We also include the latest development news in our "Important Updates" section for each country, with the intent to provide an executive assessment of the varying component parts of ASEAN, assessing each member state and providing the most up-to-date economic and demographic data on each.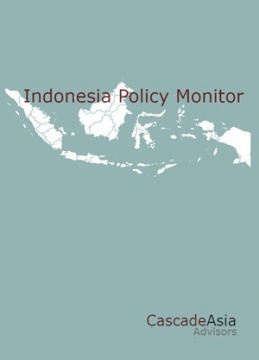 Indonesia Policy Monitor: October 2016
Indonesia presents a host of challenges that can impede the ability of foreign business players from operating at full stride. Among these challenges, the multiple and often overlapping layers of policy making and regulations makes for a complicated operating environment. Cascade Asia developed the Indonesia Policy Monitor as a complementary service to help foreign companies monitor newly passed and pending legislation and regulations.