Introduzione ai Parchi Industriali e alle Zone Economiche Speciali in Indonesia
A cura dell'Italian Desk di Dezan Shira & Associates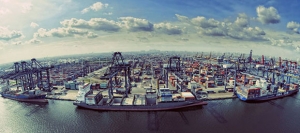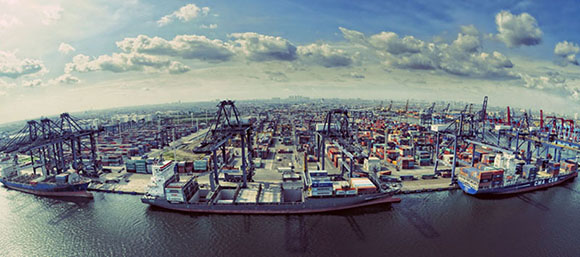 L'Indonesia, composta da oltre 17.000 isole, è il più grande Stato-arcipelago del mondo. Con una popolazione di circa 250 milioni di abitanti è il quarto Paese più popoloso dopo Cina, India e Stati Uniti. Le diversità etniche, religiose e linguistiche, oltre alla vasta disponibilità di risorse naturali, offrono un vantaggio unico ai potenziali investitori interessati ad operare nella regione.
Le infrastrutture in Indonesia
Nonostante l'Indonesia sia la prima economia del Sud-est asiatico, con una crescita economica del 5 per cento nel 2016, tuttavia essa presenta ostacoli che potrebbero limitare la capacità degli investitori di condurre le operazioni in modo efficace e efficiente. Uno degli obiettivi principali dell'attuale amministrazione è gestire le infrastrutture, che costituiscono variabile saliente con implicazioni significative in termini di profittabilità.
Il governo si è impegnato a migliorare e sviluppare le infrastrutture del Paese con l'obiettivo di creare condizioni maggiormente favorevoli alla crescita economica. Supportato dalla Asian Development Bank, il Paese ha intrapreso una serie di politiche pubbliche orientate allo sviluppo. A questo riguardo, quando si decide di investire nel Paese, è di fondamentale importanza scegliere con attenzione il luogo giusto, prendendo in considerazione fattori come gli incentivi fiscali, le infrastrutture disponibili, la prossimità alle risorse, i costi e le competenze della forza lavoro.

RELATED: Consulenza Pre-Investimento e di Strategia d'Ingresso
Parchi industriali
I Parchi Industriali facilitano l'accesso alle infrastrutture di base e garantiscono che la produzione possa essere eseguita in modo efficiente. Situati in tutto il Paese, negli ultimi anni sono diventati rilevanti. Spesso specializzati in specifici settori, essi forniscono agli investitori risorse e collegamenti alle reti di trasporto necessarie per ottimizzare le catene produttive.
Zone economiche speciali
Le Zone Economiche Speciali (ZES) in Indonesia sono aperte agli investimenti esteri e offrono agli investitori un panorama economico-legislativo differente, con politiche e misure flessibili e preferenziali per attrare capitale estero. L'Indonesia ha attualmente nove ZES ma prevede di raggiungere un totale di venticinque entro il 2019.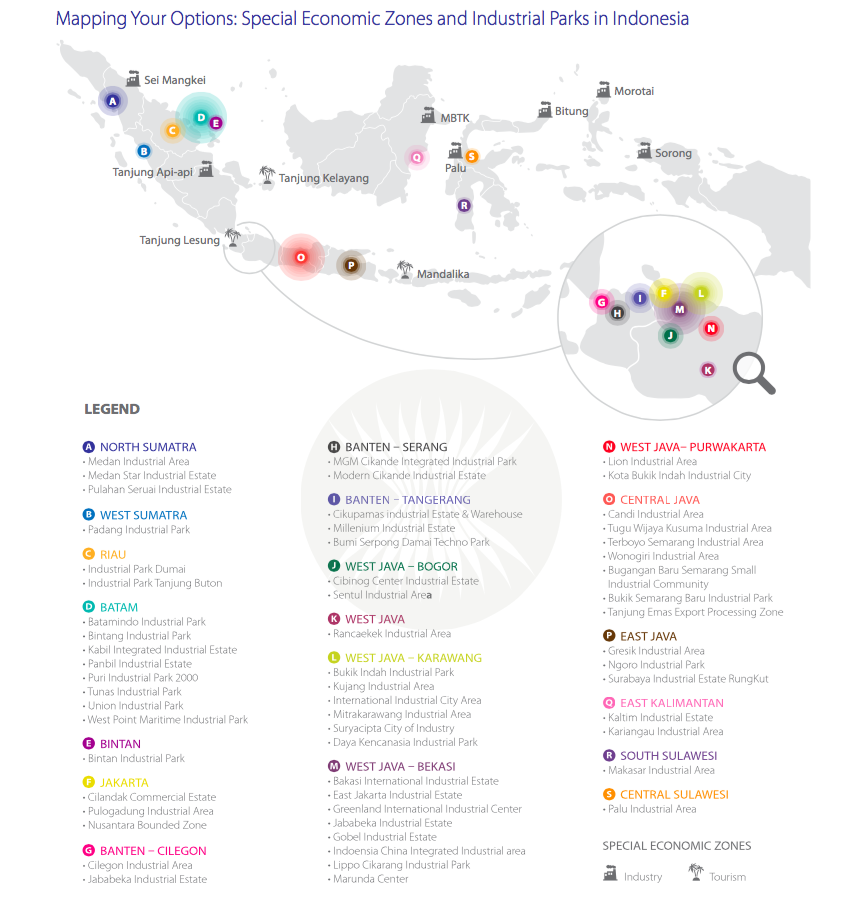 Per facilitare gli investimenti in queste zone, l'amministrazione di Widodo ha definito una serie di politiche ed incentivi. Gli investitori stranieri che operano nelle ZES dell'Indonesia possono beneficiare di diverse politiche preferenziali. Gli incentivi includono riduzioni dell'imposta sul reddito tra 20 e 100 per cento fino a 25 anni, esenzioni sull'Imposta sul Valore Aggiunto (IVA) sull'importazione di materie prime e esenzioni sull'IVA dei beni prodotti in Indonesia. Inoltre, i diritti fondiari possono essere ottenuti fino a 30 anni, ed estesi per altri 10 anni.
Nonostante questi incentivi offerti dal governo indonesiano, tuttavia non è sempre consigliabile investire in una ZES. Uno degli obiettivi primari delle ZES è quello di sviluppare le regioni rurali e meno industrializzate di un Paese, il che significa che le infrastrutture di queste aree potrebbero essere carenti, insufficienti e poco affidabili.
Scegliere la posizione ottimale per l'investimento
Come accennato in precedenza, diversi fattori svolgono un ruolo importante nella determinazione della localizzazione dell'investimento. Pertanto, è importante comprendere le soluzioni offerte dai Parchi Industriali e dalle ZES, come parte integrante della strategia aziendale. Avvalersi del supporto di professionisti in loco rappresenta una scelta sempre consigliabile. Per ulteriori informazioni sulle opportunità in Indonesia, invitiamo a contattare indonesia@dezshira.com.
Chi Siamo

Asia Briefing Ltd. è una controllata di Dezan Shira & Associates. Dezan Shira & Associates è una società di consulenza specializzata nell'assistenza agli investimenti diretti esteri per le società che intendono stabilire, mantenere e far crescere le loro operazioni in Asia. I nostri servizi includono consulenza legale e strategica all'investimento, costituzione e registrazioni societarie, tenuta contabile con redazione di bilanci periodici ed annuali, consulenza fiscale e finanziaria, due diligence, revisione contabile, gestione tesoreria, libri paga e personale, transfer pricing, consulenza IT, sistemi gestionali, deposito marchi e servizio visti. Per maggiori informazioni vi invitiamo a contattarci al seguente indirizzo: italiandesk@dezshira.com o a visitare il nostro sito: www.dezshira.com.

Per rimanere aggiornati sugli ultimi trend degli investimenti e del business in Asia, iscrivetevi alla nostra newsletter per ricevere notizie, commenti, guide e risorse multimediali.

Dezan Shira & Associates Brochure
Dezan Shira & Associates is a pan-Asia, multi-disciplinary professional services firm, providing legal, tax and operational advisory to international corporate investors. Operational throughout China, ASEAN and India, our mission is to guide foreign companies through Asia's complex regulatory environment and assist them with all aspects of establishing, maintaining and growing their business operations in the region. This brochure provides an overview of the services and expertise Dezan Shira & Associates can provide.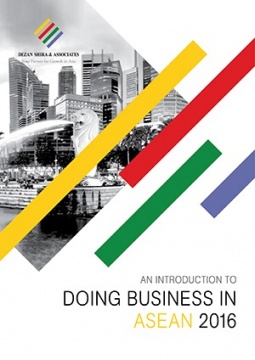 An Introduction to Doing Business in ASEAN 2016
An Introduction to Doing Business in ASEAN 2016 introduces the fundamentals of investing in the 10-nation ASEAN bloc, concentrating on economics, trade, corporate establishment and taxation.We also include the latest development news in our "Important Updates" section for each country, with the intent to provide an executive assessment of the varying component parts of ASEAN, assessing each member state and providing the most up-to-date economic and demographic data on each.

An Introduction to Foreign Investment in Indonesia
Indonesia stands out in the ASEAN region for its competitive wages, large labor pool, and burgeoning domestic market. With a population exceeding 250 million, the country is poised to become an immensely lucrative market as it develops further and the urban consumption class continues to grow. In this inaugural issue of Indonesia Briefing magazine, we examine these trends, and highlight how Indonesia has made enormous strides in streamlining and liberalizing its business environment.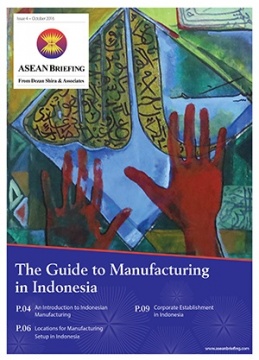 The Guide to Manufacturing in Indonesia
Choosing if, where, and how to establish foreign manufacturing operations in Indonesia can be a significant challenge. While the archipelago's vast diversity may initially seem daunting, a number of options are available which will allow entry and operations to be conducted in a seamless manner.In this issue of ASEAN Briefing, we discuss the growing importance of Indonesia as a hub for manufacturing within Southeast Asia, and provide guidance on how to select and establish operations within the country.