A cura dell'Italian Desk di Dezan Shira & Associates
Numerose società, per soddisfare le proprie esigenze produttive, stanno distogliendo lo sguardo dalla Cina a favore di altri Paesi. Tra questi, l'Indonesia sta diventando un'alternativa sempre più interessante. Mediante l'introduzione di nuovi incentivi a favore degli investimenti, che si aggiungono all'ingente forza lavoro e alla crescita della classe media, l'Indonesiana sta infatti mostrando chiaramente come intenda diventare un importante hub manifatturiero nel Sud-est asiatico.
Tuttavia, nonostante l'industria manifatturiera indonesiana stia mostrando promettenti segnali di crescita, le regolamentazioni che riguardano il settore sono tuttora stringenti e sono ulteriormente complicate dalle lungaggini burocratiche del governo. La legislazione ambigua, combinata con profonde differenze regionali a livello infrastrutturale, fa sì che per i potenziali investitori sia essenziale comprendere le profonde dinamiche del settore.
A tale proposito, in questo articolo introduciamo la situazione attuale degli investimenti in Indonesia, considerando gli incentivi, i settori in rapida crescita, e le località maggiormente economiche.
L'industria manifatturiera indonesiana
Prima della crisi finanziaria asiatica del 1997, il settore manifatturiero indonesiano era solido e in rapida crescita. Solo due anni prima della crisi, il settore non-oil and gas mostrava un tasso di crescita superiore al 12%. Tuttavia, nel 2001 tale tasso era crollato al 4%. In seguito a tale contrazione, tra il 2004 e il 2011 il settore manifatturiero ha alternato fasi di contrazione e di espansione. Tuttavia, nonostante tale volatilità, nello stesso periodo il settore ha fatto registrare un tasso medio di crescita pari al 5,5%. Infine, nel 2014, il presidente Joko Widodo, noto anche come Jokowi, si è insediato con il preciso obiettivo di stabilizzare e riformare il settore manifatturiero.
Il piano d'azione di Jokowi
Jokowi considera la manifattura un settore strategico per lo sviluppo dell'economia indonesiana e per creare occupazione per i 2,3 milioni di persone che ogni anno entrano a far parte della forza lavoro. Il governo indonesiano negli ultimi anni ha compiuto passi concreti per attrarre gli Investimenti Diretti Esteri nell'industria manifatturiera, e sin dall'insediamento Jowoki ha varato una serie di misure volte a permettere agli investitori stranieri di avere accesso a più settori, tra cui il settore farmaceutico. In aggiunta alla maggiore liberalizzazione degli investimenti, con le riforme è stato creato un unico dipartimento per l'approvazione degli investimenti, sono stati introdotti incentivi alle esportazioni, sono state create zone economiche speciali, e sono stati programmati incentivi alle importazioni per promuovere gli investimenti nel settore manifatturiero. Sull'onda di tali cambiamenti, le proiezioni mostrano come il contributo offerto dal settore manifatturiero al PIL dovrebbe crescere dell'8,5%, raggiungendo il 30% nel 2025. Il governo dovrà cercare di smorzare i dubbi degli investitori relativi alla produttività nazionale aggregata.
Demografia del settore manifatturiero
Le abbondanti risorse naturali e lo sviluppo di una nuova classe media di consumatori rendono l'Indonesia una località attraente per l'industria manifatturiera. I medesimi fattori supportano anche un vasto settore food and beverage, tuttavia al suo interno poche aziende hanno un orizzonte internazionale, che rappresenterebbe invece una notevole opportunità per i nuovi investitori. A seguire si hanno elettronica, automotive, e chimica-farmaceutica, che hanno mostrato notevoli livelli di crescita nella prima parte del 2016, mentre i segmenti non tecnologici hanno mostrato un'espansione dal 2012 al 2015. Nel complesso, il governo sta concentrando i propri sforzi verso l'incremento del valore aggiunto in settori chiave quali quello dei beni capitale, energetico e tessile.
Centri manifatturieri
Jakarta, Bandung and Surabaya rappresentano i maggiori centri manifatturieri in Indonesia e si trovano tutti sull'isola di Java. Tali località sono popolari per via delle loro infrastrutture, ma il governo si sta sforzando per realizzare infrastrutture anche in aree periferiche dove gli stipendi sono del 40-50% inferiori. Entro 15 anni il governo punta a creare 36 distretti manifatturieri al di fuori dell'isola di Java per attrarre nuovi investitori. Nel complesso, i costi della manifattura in Indonesia sono un terzo di quelli della Cina. Tuttavia, Jokowi e la sua amministrazione hanno bisogno di rafforzare gli incentivi per consentire agli investitori di avvantaggiarsi delle offerte dell'Indonesia anche al di fuori dell'isola di Java.

Chi Siamo
Asia Briefing Ltd. è una controllata di Dezan Shira & Associates. Dezan Shira & Associates è una società di consulenza specializzata nell'assistenza agli investimenti diretti esteri per le società che intendono stabilire, mantenere e far crescere le loro operazioni in Asia. I nostri servizi includono consulenza legale e strategica all'investimento, costituzione e registrazioni societarie, tenuta contabile con redazione di bilanci periodici ed annuali, consulenza fiscale e finanziaria, due diligence, revisione contabile, gestione tesoreria, libri paga e personale, transfer pricing, consulenza IT, sistemi gestionali, deposito marchi e servizio visti. Per maggiori informazioni vi invitiamo a contattarci al seguente indirizzo: italiandesk@dezshira.com o a visitare il nostro sito: www.dezshira.com.
Per rimanere aggiornati sugli ultimi trend degli investimenti e del business in Asia, iscrivetevi alla nostra newsletter per ricevere notizie, commenti, guide e risorse multimediali.

Dezan Shira & Associates Brochure
Dezan Shira & Associates is a pan-Asia, multi-disciplinary professional services firm, providing legal, tax and operational advisory to international corporate investors. Operational throughout China, ASEAN and India, our mission is to guide foreign companies through Asia's complex regulatory environment and assist them with all aspects of establishing, maintaining and growing their business operations in the region. This brochure provides an overview of the services and expertise Dezan Shira & Associates can provide.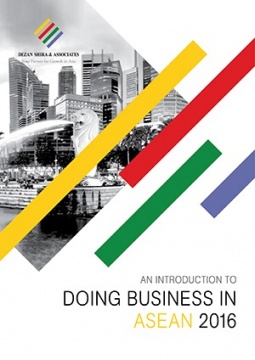 An Introduction to Doing Business in ASEAN 2016
An Introduction to Doing Business in ASEAN 2016 introduces the fundamentals of investing in the 10-nation ASEAN bloc, concentrating on economics, trade, corporate establishment and taxation.We also include the latest development news in our "Important Updates" section for each country, with the intent to provide an executive assessment of the varying component parts of ASEAN, assessing each member state and providing the most up-to-date economic and demographic data on each.

An Introduction to Foreign Investment in Indonesia
Indonesia stands out in the ASEAN region for its competitive wages, large labor pool, and burgeoning domestic market. With a population exceeding 250 million, the country is poised to become an immensely lucrative market as it develops further and the urban consumption class continues to grow. In this inaugural issue of Indonesia Briefing magazine, we examine these trends, and highlight how Indonesia has made enormous strides in streamlining and liberalizing its business environment.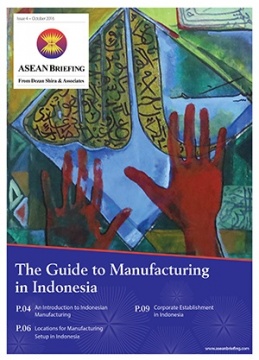 The Guide to Manufacturing in Indonesia
Choosing if, where, and how to establish foreign manufacturing operations in Indonesia can be a significant challenge. While the archipelago's vast diversity may initially seem daunting, a number of options are available which will allow entry and operations to be conducted in a seamless manner.In this issue of ASEAN Briefing, we discuss the growing importance of Indonesia as a hub for manufacturing within Southeast Asia, and provide guidance on how to select and establish operations within the country.