A Guide to Indonesia's Industrial Parks and Special Economic Zones
By: Dezan Shira & Associates
Editor: Alexander Chipman Koty
Indonesia is composed of over 13,000 islands and home to over a quarter of a billion people. The country's island-based geography presents rich diversity in ethnic, religious, and linguistic communities, as well as incredible biodiversity and a wide array of natural resources. While these features contribute to Indonesia's unique advantages, they should also be at the forefront of investor's minds when considering investment.
Understanding the infrastructure deficit
Amidst a variety of governance-based concerns, which are the subject of intense scrutiny and the target of government reform under the current administration, infrastructure remains a salient variable for investments, with significant profit implications. Pegged by the Asian Development Bank at a massive US$700 billion, infrastructure deficits in Indonesia can restrict the ability of investors to conduct operations in a successful manner. Fortunately, Indonesia has a number of investment options available to mitigate the impact of these challenges. Regardless of the nature of investment chosen, various factors – including tax incentives, infrastructure and logistics, proximity to resources, and labor costs and skill levels – must be taken into consideration when choosing a location for investment in Indonesia.
Industrial parks
Industrial parks offer a cost effective way to increase access to basic infrastructure and ensure that production can be carried out in an efficient and effective manner. Located throughout the country, these investment options have become more targeted in recent years, often specializing in select industries and providing investors with the resources, utilities, and connections to transport networks required to optimize production chains.
Special economic zones
Special Economic Zones (SEZs) in Indonesia are open to foreign investment and offer investors access to preferential regulatory infrastructure and taxation in an attempt to channel investment into specific locations. Indonesia currently has nine SEZs and plans for a total of 25 to be in place by 2019.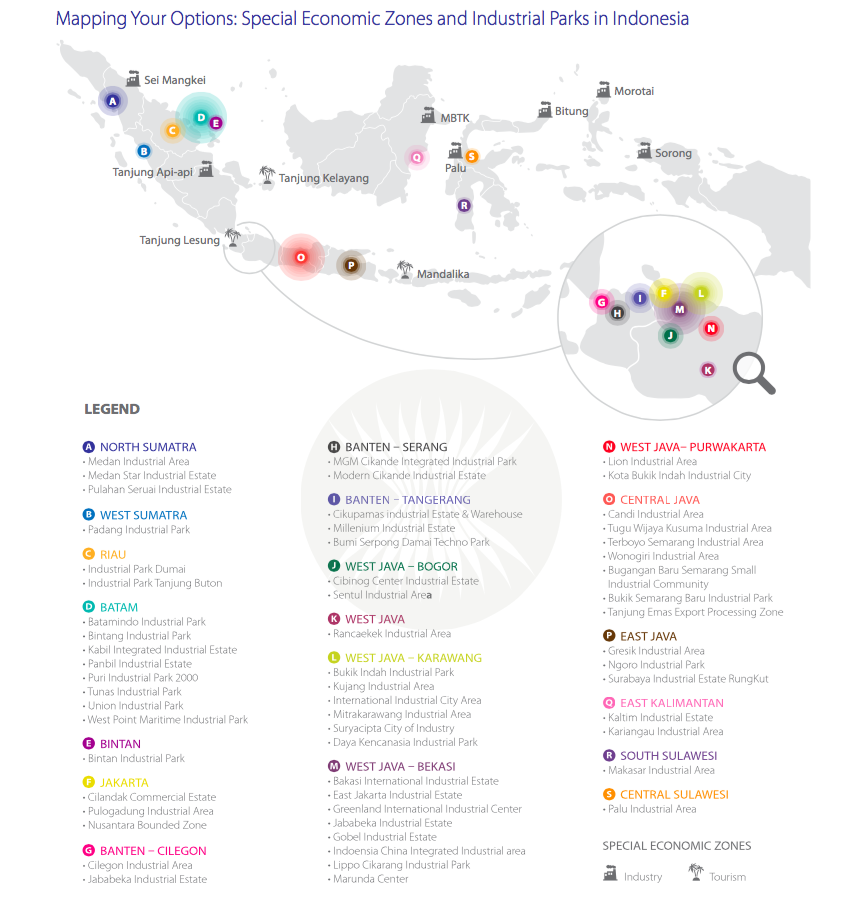 To facilitate investment in these zones, the Widodo administration has instituted a number of incentives targeting investors setting up within SEZs. Outlined within Package 6 of the administration's reforms, foreign investors operating in Indonesia's SEZs stand to gain from several preferential policies if they meet funding requirements. Incentives include income tax reductions from 20-100 percent for up to 25 years, VAT exemptions on the import of raw materials, and VAT exemptions on manufactured goods sold within Indonesia. Additionally, land rights can be obtained for up to 30 years and further extended by 10 additional years.
Despite the generous tax holidays offered by the Indonesian government, it is not always advisable to invest in an SEZ rather than another location. One of the primary goals of SEZs is to develop Indonesia's rural and less industrialized regions, meaning that infrastructure in these areas may be poor – including unreliable power supplies – and skilled labor difficult to find.
Choosing the optimal location for investment
As mentioned above, a number of factors all play a role in determining the optimal location for manufacturing in Indonesia. Understanding that industrial parks and SEZs are an integral solution to mitigating the costs of lagging infrastructure, the following map above highlights relevant industrial parks and SEZs throughout Indonesia. For more information on opportunities within specific zones, please contact indonesia@dezshira.com

About Us
Asia Briefing Ltd. is a subsidiary of Dezan Shira & Associates. Dezan Shira is a specialist foreign direct investment practice, providing corporate establishment, business advisory, tax advisory and compliance, accounting, payroll, due diligence and financial review services to multinationals investing in Indonesia, China, Hong Kong, India, Vietnam, Singapore and the rest of ASEAN. For further information, please email indonesia@dezshira.com or visit www.dezshira.com. Stay up to date with the latest business and investment trends in Asia by subscribing to our complimentary update service featuring news, commentary and regulatory insight.
 ‍

Dezan Shira & Associates Brochure
Dezan Shira & Associates is a pan-Asia, multi-disciplinary professional services firm, providing legal, tax and operational advisory to international corporate investors. Operational throughout China, ASEAN and India, our mission is to guide foreign companies through Asia's complex regulatory environment and assist them with all aspects of establishing, maintaining and growing their business operations in the region. This brochure provides an overview of the services and expertise Dezan Shira & Associates can provide.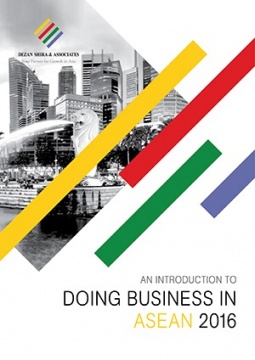 An Introduction to Doing Business in ASEAN 2016
An Introduction to Doing Business in ASEAN 2016 introduces the fundamentals of investing in the 10-nation ASEAN bloc, concentrating on economics, trade, corporate establishment and taxation.We also include the latest development news in our "Important Updates" section for each country, with the intent to provide an executive assessment of the varying component parts of ASEAN, assessing each member state and providing the most up-to-date economic and demographic data on each.

An Introduction to Foreign Investment in Indonesia
Indonesia stands out in the ASEAN region for its competitive wages, large labor pool, and burgeoning domestic market. With a population exceeding 250 million, the country is poised to become an immensely lucrative market as it develops further and the urban consumption class continues to grow. In this inaugural issue of Indonesia Briefing magazine, we examine these trends, and highlight how Indonesia has made enormous strides in streamlining and liberalizing its business environment.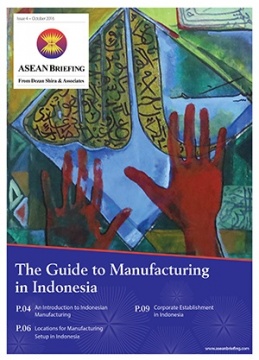 The Guide to Manufacturing in Indonesia
Choosing if, where, and how to establish foreign manufacturing operations in Indonesia can be a significant challenge. While the archipelago's vast diversity may initially seem daunting, a number of options are available which will allow entry and operations to be conducted in a seamless manner.In this issue of ASEAN Briefing, we discuss the growing importance of Indonesia as a hub for manufacturing within Southeast Asia, and provide guidance on how to select and establish operations within the country.