A cura dell'Italian Desk di Dezan Shira & Associates 
La protezione di investimenti effettuati da società estere in Indonesia richiede una valida conoscenza del panorama legislativo e specialmente del diritto industriale o anche di proprietà intellettuale. In Indonesia tale panorama spesso sposa standard internazionali, rendendo la struttura di questi diritti ancora più solida. Il paese fa parte dell'Organizzazione Mondiale del Commercio (World Trade Organization, WTO) e ha ratificato i TRIPs (Agreement on Trade-related Aspects of Intellectual Property). L'Indonesia ha inoltre ratificato la maggior parte dei trattati sulla protezione della proprietà intelletuale, tra i quali la Convenzione di Unione di Parigi e la Convenzione di Berna. Per ultimo, nel 2014 il paese ha modificato la Copyright Law del 2012 (legge sui diritti di autore) con lo scopo di renderla più efficace e funzionale. Le modifiche includono un'estensione della protezione fornita dai diritti d'autore a quasi tutte le tipologie di progetti da 50 a 70 anni dopo la morte dell'autore. Rendono inoltre illegale il caricamento e lo scaricamento di materiale protetto da copyright per ragioni commerciali, così come prevedono provvedimenti severi e sanzioni penali per le violazioni dei diritti d'autore. Infine, tali modifiche attribuiscono la responsabilità al locatore nel caso permettese deliberatamente e volontariamente la vendita e la duplicazione di prodotti soggetti a copyright.
Ciononostante, è complicato proteggere e far sì che vengano protetti i diritti di proprietà intellettuale in Indonesia. L'ufficio statunitense per la rappresentanza del commercio (The Office of the United States Trade Representative) ha difatti inserito l'Indonesia nella propria Special 301 Priority Watch List , una lista di partner commerciali che hanno riscontrato problemi inerenti alla protezione della proprietà intellettuale. Atti di contraffazione e pirateria digitale online sono ricorrenti in Indonesia. Secondo i dati forniti dall'International Intellectual Property Alliance, l'86% dei software commerciali nella regione è privo di licenza d'uso, per non menzionare la percentuale dei programmi "pirata" in uso che è perfino maggiore. Un contributo alla lotta contro la pirateria è dato dalle attività investigative svolte dal Directorate General of Intellectual Property  (DGIP), che vedono la collaborazione delle forze dell'ordine per l'applicazione di misure coercitive. Le parti lese devono denunciare le violazioni alle autorità per ottenere un loro intervento a difesa dei propri diritti di proprietà intellettuale. Tuttavia, le indagini si rivelano spesso lunghe e costose poiché richiedono controlli in loco presso coloro che hanno violato le privative, tra cui marchi, brevetti, design.

SERVIZI CORRELATI: Verifica della tutela della proprietà intellettuale e registrazione del marchio
La legge sui marchi e sulle indicazioni geografiche
Le autorità indonesiane hanno di recente voltato la loro attenzione verso le problematiche inerenti la proprietà intellettuale. Nel mese di Ottobre 2016, la House of Representatives ha approvato la "New Trademark Law" al fine di adeguarsi agli standard internazionali sui marchi e sulle indicazioni geografiche. Tale Legge offre protezione ai marchi non tradizionali cioe' quelli tridimensionali, marchi sonori e marchi olfattivi, che non erano contemplati dalla legge precedente.
La New Trademark Law semplifica il processo di registrazione del marchio, stabilendo dei requisiti minimi di notifica. L'ufficio marchi assegna una data al depositante del marchio subito dopo aver depositato la domanda, fornito il simbolo del marchio e saldato i costi amministrativi del servizio. La Legge prevede anche che la domanda di deposito del marchio venga pubblicata entro 15 giorni lavorativi dalla data di deposito. Tuttavia le autorità indonesiane vietano a individui/organizzazioni la registrazione di marchi che non rispettano le leggi e normative nazionali, i principi morali, il buon costume o che contengono informazioni false o simili a servizi e prodotti già registrati.
Infine, la New Trademark Law mira a rassicurare l'investitore mettendo in primo piano l'obiettivo del governo di proteggere i detentori dei diritti d'autore. La nuova legge contiene inoltre una disposizione che attesta la futura adesione dell'Indonesia all'International Trademark Application System (Madrid Protocol) e prevede ammende fino a IDR 5 miliardi (circa 375.000 dollari) e detenzione fino a un periodo di 10 anni per contraffazione di marchi nel settore della salute pubblica o l'ambiente.
La registrazione del marchio in Indonesia
Sebbene la New Trademark Law semplifichi il processo di registrazione e rinnovo di un marchio, la prima può ancora risultare lunga e costosa. Il DGIP non garantisce che la domanda di registrazione del marchio venga approvata e non ne prevede il rimborso in caso negativo. I richiedenti possono registrare il proprio marchio presso gli appositi uffici o per via telematica. Il processo di registrazione si suddivide in 5 fasi:
Invio della domanda – i richiedenti depositano la documentazione al DGIP. I richiedenti stranieri devono delegare agenti locali per la deposizione della documentazione che deve contenere informazioni quali nome, cognome, indirizzo, paese in cui la società è stata costituita, più un campione del marchio, specifiche dei prodotti e servizi e il modulo di procura.
Controllo amministrativo – il DGIP controlla che la domanda sia in linea con i requisiti imposti dalle autorità e che le spese siano state pagate. Tale procedura può richiedere fino a tre mesi.
Risposta – se la domanda supera il primo esame, la domanda di deposito del marchio sarà pubblicata per tre mesi sull' Official Trademark Journal e sarà da lì in avanti oggetto di eventuali contestazioni da soggetti terzi.
Esame approfondito – Il DGIP prende in esame la domanda per un periodo massimo di 150 giorni lavorativi (nella legislazione precedente questo periodo era di 9 mesi)
Pubblicazione – la New Trademark Law riduce questa fase da 3 a 2 mesi. In questo ultimo stadio, il DGIP approva o rifiuta la domanda.
Da ricordare che un marchio registrato in Indonesia ha validità decennale dopo la data di effettiva registrazione e può essere rinnovato per altrettanti anni per un numero illimitato di rinnovi.
Assicurare diritti di proprietà intellettuale e marchi registrati
Un individuo/organizzazione può perdere il proprio diritto ad usufruire del marchio sebbene esso sia registrato presso il DGIP: la legge indonesiana sui marchi stabilisce che se un individuo/organizzazione non fa uso del marchio per un periodo di tre anni dalla data di effettiva registrazione, il marchio verrà revocato.
Lo stato attuale dei diritti di proprietà intelletuale in Indonesia pone delle sfide agli investitori stranieri. Dezan Shira & Associates, insieme al suo partner regionale Winnido Business Consult, offre numerosi servizi per mitigare il rischio assocciato alla proprietà intellettuale nel paese. Questa unione offre l'opportunità agli investitori stranieri di affidarsi ad un agente locale per l'intero processo di registrazione del marchio e per la messa al sicuro dei propri diritti di proprietà intellettuale. Gli investitori impegnati in procedure civili e penali possono inoltre avvalersi dell'assistenza offerta dall'alleanza firmata da Dezan Shira per ricorrere a vie alternative, come ad esempio la mediazione privata.

Chi Siamo
Asia Briefing Ltd. è una controllata di Dezan Shira & Associates. Dezan Shira & Associates è una società di consulenza specializzata nell'assistenza agli investimenti diretti esteri per le società che intendono stabilire, mantenere e far crescere le loro operazioni in Asia. I nostri servizi includono consulenza legale e strategica all'investimento, costituzione e registrazioni societarie, tenuta contabile con redazione di bilanci periodici ed annuali, consulenza fiscale e finanziaria, due diligence, revisione contabile, gestione tesoreria, libri paga e personale, transfer pricing, consulenza IT, sistemi gestionali, deposito marchi e servizio visti. Per maggiori informazioni vi invitiamo a contattarci al seguente indirizzo: italiandesk@dezshira.com o a visitare il nostro sito: www.dezshira.com.
Per rimanere aggiornati sugli ultimi trend degli investimenti e del business in Asia, iscrivetevi alla nostra newsletter per ricevere notizie, commenti, guide e risorse multimediali.

Dezan Shira & Associates Brochure
Dezan Shira & Associates is a pan-Asia, multi-disciplinary professional services firm, providing legal, tax and operational advisory to international corporate investors. Operational throughout China, ASEAN and India, our mission is to guide foreign companies through Asia's complex regulatory environment and assist them with all aspects of establishing, maintaining and growing their business operations in the region. This brochure provides an overview of the services and expertise Dezan Shira & Associates can provide.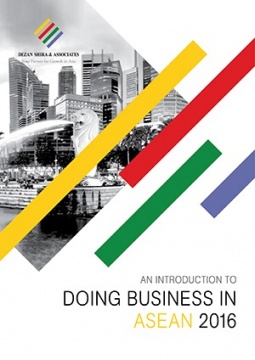 An Introduction to Doing Business in ASEAN 2016
An Introduction to Doing Business in ASEAN 2016 introduces the fundamentals of investing in the 10-nation ASEAN bloc, concentrating on economics, trade, corporate establishment and taxation.We also include the latest development news in our "Important Updates" section for each country, with the intent to provide an executive assessment of the varying component parts of ASEAN, assessing each member state and providing the most up-to-date economic and demographic data on each.

An Introduction to Foreign Investment in Indonesia
Indonesia stands out in the ASEAN region for its competitive wages, large labor pool, and burgeoning domestic market. With a population exceeding 250 million, the country is poised to become an immensely lucrative market as it develops further and the urban consumption class continues to grow. In this inaugural issue of Indonesia Briefing magazine, we examine these trends, and highlight how Indonesia has made enormous strides in streamlining and liberalizing its business environment.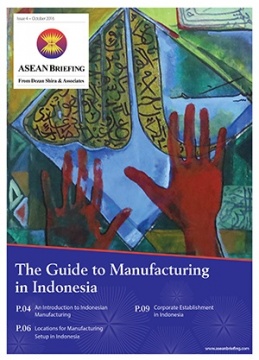 The Guide to Manufacturing in Indonesia
Choosing if, where, and how to establish foreign manufacturing operations in Indonesia can be a significant challenge. While the archipelago's vast diversity may initially seem daunting, a number of options are available which will allow entry and operations to be conducted in a seamless manner.In this issue of ASEAN Briefing, we discuss the growing importance of Indonesia as a hub for manufacturing within Southeast Asia, and provide guidance on how to select and establish operations within the country.