Examining Opportunities in Indonesia's Upstream Palm Oil Sector
By: Samuel Glickstein
Palm oil and palm oil-based products can be found in supermarkets around the world. Although palm oil can be used as a simple frying tool, this production-efficient oil can be blended and processed to create numerous food, pharmaceutical, and cosmetic products. The rapid growth of the palm oil industry in recent years has benefitted the economy of Indonesia, the world's leading producer and exporter of the oil. The sector has provided employment to millions of Indonesians, particularly on the islands of Sumatra and Kalimantan, where most palm oil estates are located. According to the Indonesian Palm Oil Producers Association (Gapki) and Indonesia's Ministry of Agriculture, Indonesia produced 32.5 million tons of crude palm oil (CPO) in 2015 and exported 26.4 million tons.
International demand for palm oil is expected to grow in the future due to the world's expanding population increasing its diet of palm oil based goods, including margarine, peanut butter, and brands of cookies and chips. Foreign firms may also be interested in Indonesia's palm oil sector because the archipelago boasts the lowest CPO production costs in the world. Although investing in palm oil plantations in Indonesia can be profitable, producing CPO in the archipelago also carries substantial risks. This article analyzes opportunities in Indonesia's palm oil sector, evaluates challenges, and provides recommendations to global companies on how they can decrease their margin of risk in investing in this burgeoning industry.
Opportunities in Indonesia's Upstream Palm Oil Sector
The upstream palm oil sector mostly consists of the planting and harvesting of oil palm. Companies that have produced and exported CPO over the last 15 years have generated substantial profits. Global palm oil output experienced a slump in 2015 due to the disruptive weather patterns of El Niño and La Niña, which resulted in higher prices and major export markets to use substitutes. However, sales of palm oil improved in 2016 as a wet dry season in Indonesia drove production and improvements in the economies of the EU, China, and India boosted demand.
Strong global demand will likely keep Indonesia's upstream palm oil sector profitable in the coming years. The U.S. Food and Drug Administration's decision to ban the use of artificial trans fats in foods beginning in 2018 will increase American interest in palm oil, which has been named as the main replacement for trans fats. The EU's plan to rely on renewable energy sources for 10 percent of its transportation needs by 2020 has also boosted palm oil sales. The Guardian reports that 45 percent of the palm oil exported to Europe in 2014 was used in biodiesel. Furthermore, the Indonesian government is contributing to demand for palm oil by implementing biofuel subsidies to decrease the country's need for imported oils and spur the growth of its domestic renewable energy sector.
The government has also pledged its support for the upstream palm oil industry. In revising the Negative Investment List in 2016 the government permitted foreign individuals/organizations to own up to 95 percent of a palm oil plantation and 25 percent of a plasma plantation. Although the specified plantation does not have to include a palm oil processing unit, it must be at least 25 hectares in size.
Risks in Indonesia's Upstream Palm Oil Sector
Producers of CPO in Indonesia face risks that can hinder their abilities to generate revenue and damage their reputations. The main dangers for global companies in Indonesia's palm oil sector are environmental issues and land disputes.
First, individuals/organizations interested in CPO production in Indonesia must factor environmental sustainability into their plans. Some companies have used illegal slash-and-burn techniques to quickly clear land for palm oil plantations. This type of farming destroys the environment by causing forest fires as well as creating a toxic haze that releases CO2 into the atmosphere. Indonesia has experienced these fires for years but blazes in Sumatra and Kalimantan in 2015 were particularly bad, closing schools, causing respiratory infections, and resulting in major economic losses.
The fires in 2015 contributed to a growing global backlash against palm oil and prompted Indonesian President Joko Widodo to issue a five-year moratorium on new palm oil concessions. These events have made the palm oil sector a sensitive topic in both Indonesian and international forums.
Land disputes between palm oil companies and local communities present another reputational risk for foreign investors. Indonesia's National Lands Agency registered over 3,000 conflicts between palm oil companies and communities in 2013. Companies that engage in land grabs and violence against indigenous people have experienced protests and boycotts. Both slash-and-burn farming and violence against indigenous people can lead to lawsuits that result in fines and confiscation of companies' land. This economic loss in Indonesia is compounded by the risk of a company becoming an international pariah.
Maximizing Opportunities and Mitigating Risks
Unfortunately, it is nearly impossible to avoid any risk in investing in the upstream palm oil sector in Indonesia due to the inherent volatility of the industry. Even companies that believe they are following environmental safeguards can be condemned if their supply chain includes plantations that have links to deforestation and land grabs. However, CPO producers can decrease the possibility of reprisals and improve their reputations by acting responsibly in Indonesia. For example, global companies can obtain certification that proves their CPO does not harm the environment or local communities. There are numerous types of sustainable palm oil certification schemes and in 2009 the Indonesian government created the Indonesian Sustainable Palm Oil (ISPO) standard. People have criticized ISPO because it is less stringent on environmental issues and vague on compliance. Therefore, foreign firms should work to acquire the Roundtable on Sustainable Palm Oil (RSPO) standard, which is internationally recognized and establishes strong requirements for compliance with environmental rules.
Firms can also bolster their reputations by allocating a portion of their budgets to corporate responsibility (CR) initiatives. Helping local palm oil farmers by entering into business partnerships with them rather than just using their land is one way for a foreign company to improve its standing in the community. Moreover, foreign companies can train smallholders in palm oil agronomy and introduce them to technology that will enable them to increase productivity on their plots of land.
Although the forest fires in 2015 and the government's moratorium on new land concessions may worry prospective investors, there are abundant opportunities for growth in Indonesia's upstream palm oil sector. The pan-Asian consulting firm Dezan Shira & Associates and its Indonesian partner, Winnindo Business Consult, can advise global companies on potential locations for palm oil plantations. In addition, the Dezan Shira Alliance can provide guidance on dealing with upcoming regulations, obtaining sustainable palm oil certification, and resolving land ownership issues. Finally, the Alliance can connect foreign investors to experienced plantation managers who support sustainability standards while raising productive harvests.

About Us
Asia Briefing Ltd. is a subsidiary of Dezan Shira & Associates. Dezan Shira is a specialist foreign direct investment practice, providing corporate establishment, business advisory, tax advisory and compliance, accounting, payroll, due diligence and financial review services to multinationals investing in Indonesia, China, Hong Kong, India, Vietnam, Singapore and the rest of ASEAN. For further information, please email indonesia@dezshira.com or visit www.dezshira.com. Stay up to date with the latest business and investment trends in Asia by subscribing to our complimentary update service featuring news, commentary and regulatory insight.
 ‍

Dezan Shira & Associates Brochure
Dezan Shira & Associates is a pan-Asia, multi-disciplinary professional services firm, providing legal, tax and operational advisory to international corporate investors. Operational throughout China, ASEAN and India, our mission is to guide foreign companies through Asia's complex regulatory environment and assist them with all aspects of establishing, maintaining and growing their business operations in the region. This brochure provides an overview of the services and expertise Dezan Shira & Associates can provide.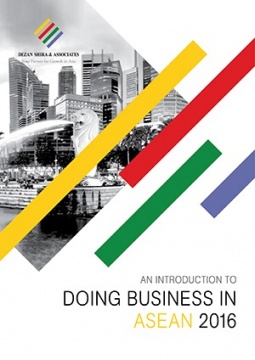 An Introduction to Doing Business in ASEAN 2016
An Introduction to Doing Business in ASEAN 2016 introduces the fundamentals of investing in the 10-nation ASEAN bloc, concentrating on economics, trade, corporate establishment and taxation.We also include the latest development news in our "Important Updates" section for each country, with the intent to provide an executive assessment of the varying component parts of ASEAN, assessing each member state and providing the most up-to-date economic and demographic data on each.

An Introduction to Foreign Investment in Indonesia
Indonesia stands out in the ASEAN region for its competitive wages, large labor pool, and burgeoning domestic market. With a population exceeding 250 million, the country is poised to become an immensely lucrative market as it develops further and the urban consumption class continues to grow. In this inaugural issue of Indonesia Briefing magazine, we examine these trends, and highlight how Indonesia has made enormous strides in streamlining and liberalizing its business environment.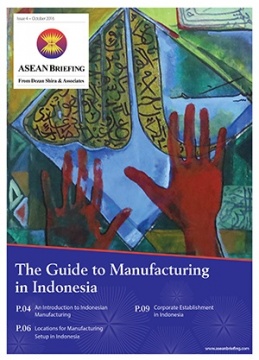 The Guide to Manufacturing in Indonesia
Choosing if, where, and how to establish foreign manufacturing operations in Indonesia can be a significant challenge. While the archipelago's vast diversity may initially seem daunting, a number of options are available which will allow entry and operations to be conducted in a seamless manner.In this issue of ASEAN Briefing, we discuss the growing importance of Indonesia as a hub for manufacturing within Southeast Asia, and provide guidance on how to select and establish operations within the country.