Écrit par : Dezan Shira & Associates

Traduit par : Thibaut Minot
Comparé au monde des affaires de Singapour, de la Malaisie ou de la Thaïlande, l'environnement opérationnel en Indonésie est plus contraignant pour les entreprises étrangères. D'une part, la fiscalité en Indonésie est plus élevée et, d'autre part, les formalités bureaucratiques y sont plus lourdes. Malgré tout, de nombreux investisseurs sont intrigués par l'énorme potentiel du pays. Tout comme en Thaïlande, les exigences en matière de prévention des pertes, les contraintes en matière de délais, et les obligations de conformité avant le rapatriement des fonds, ne sont pas nécessaires en Indonésie. En outre, plus de 60 pays détiennent des conventions de double imposition (double tax agreements, «DTAs») avec l'Indonésie, réduisant les retenues d'impôts relativement élevées que le pays prélève.
Afin que les investisseurs puissent bénéficier des avantages associés aux DTAs, les destinataires des fonds rapatriés doivent confirmer leur résidence fiscale en fournissant au bureau des impôts indonésien un certificat de domicile certifié par l'autorité fiscale de leur pays d'origine. Les entités étrangères qui opèrent via des établissements permanents (permanent establishments, «PEs») ont généralement les mêmes engagements fiscaux que les sociétés résidentes. Les PEs ont une définition relativement large en Indonésie et sont assujettis à des réglementations et à des taux d'imposition particuliers. Pour cette raison, il est conseillé aux investisseurs étrangers de s'assurer que leur entreprise ne se voit pas accidentellement qualifiée comme un PE.
Dividendes: La remise de dividendes est passible d'une retenue d'impôt de 20%. Ce montant peut être réduit grâce à un DTA. Même avec un DTA, cependant, le taux est généralement encore de 10 et 15 pour cent. Si le bénéficiaire non-résident détient un PE en Indonésie, les taux d'imposition domestiques de 10 à 15 pour cent s'appliquent.
Intérêts: L'Indonésie retient 20% du montant des paiements d'intérêts. Les DTAs offrent des taux plus bas et plusieurs possibilités d'exemptions. Les paiements aux banques ou autres institutions financières s'accompagnent généralement de taux d'imposition réduits. Dans le cas où l'intérêt est versé à un gouvernement, à une banque liée à un accord gouvernemental de prêt, ou à des banques et institutions financières particulières, la retenue d'impôt peut être entièrement exonérée. Il existe également des taux d'imposition inférieurs et autres exemptions si les bénéfices payés proviennent de projets industriels particuliers. Un taux d'imposition domestique de 15 pour cent est administré pour les bénéficiaires détenant un PE.
Royalties: Comme pour les dividendes et les intérêts, les royalties sont assujetties à une retenue d'impôt de 20 pour cent. Des taux plus bas sont disponibles pour de nombreux secteurs dans la plupart des DTAs, y compris pour les droits d'auteur artistiques, l'équipement industriel, commercial ou scientifique, et l'expérience. Pour les bénéficiaires détenant un PE, le taux standard d'imposition de 15 pour cent est utilisé.
Impôt sur les bénéfices d'une filiale: l'Indonésie prélève aux PE un impôt à la hauteur de 20 pour cent sur les bénéfices après impôt des filiales, même si les fonds ne sont pas rapatriés au pays d'origine. Ce montant peut être abaissé par un DTA ou exempté si les bénéfices sont réinvestis en Indonésie.
Restrictions de change: L'Indonésie n'exerce pas de contrôle sur l'afflux et les sorties d'argent en devises étrangères. Toutefois, les entreprises doivent fournir à la Banque d'Indonésie un registre de tous les transferts vers des pays étrangers, y compris le montant transféré en Roupie Indonésienne (IDR), les bilans annuels, et les états de profits et pertes. Dans la plupart des cas, les paiements dans le pays doivent être effectués en IDR.
À Propos de Nous
Asia Briefing Ltd. est une filiale de Dezan Shira & Associates. Dezan Shira est un cabinet spécialisé dans l'investissement direct à l'étranger, fournissant à travers l'Asie des services de conseil juridique, fiscal et opérationnel, ainsi que des solutions en comptabilité, audit, et ressources humaines.
Vous pouvez nous contacter à indonesia@dezshira.com ou télécharger notre brochure ici.
Restez informés des dernières nouvelles concernant les investissements et le milieu des affaires en Asie en souscrivant à notre newsletter.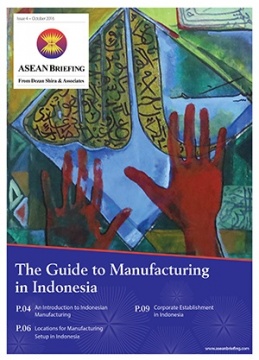 The Guide to Manufacturing in Indonesia
Choosing if, where, and how to establish foreign manufacturing operations in Indonesia can be a significant challenge. While the archipelago's vast diversity may initially seem daunting, a number of options are available which will allow entry and operations to be conducted in a seamless manner.In this issue of ASEAN Briefing, we discuss the growing importance of Indonesia as a hub for manufacturing within Southeast Asia, and provide guidance on how to select and establish operations within the country.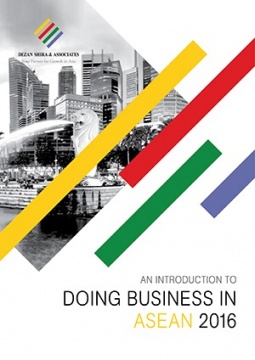 An Introduction to Doing Business in ASEAN 2016
An Introduction to Doing Business in ASEAN 2016 introduces the fundamentals of investing in the 10-nation ASEAN bloc, concentrating on economics, trade, corporate establishment and taxation.We also include the latest development news in our "Important Updates" section for each country, with the intent to provide an executive assessment of the varying component parts of ASEAN, assessing each member state and providing the most up-to-date economic and demographic data on each.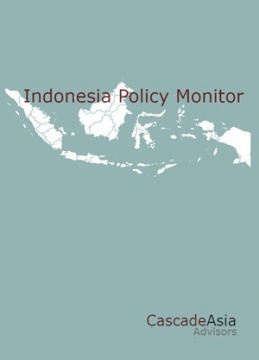 Indonesia Policy Monitor: October 2016
Indonesia presents a host of challenges that can impede the ability of foreign business players from operating at full stride. Among these challenges, the multiple and often overlapping layers of policy making and regulations makes for a complicated operating environment. Cascade Asia developed the Indonesia Policy Monitor as a complementary service to help foreign companies monitor newly passed and pending legislation and regulations.