Financial Services Update: Registration and Supervision of Actuaries, Public Accountants, and Appraisers in Indonesia
By Agus Sugih Hart, Winnindo Business Consult
Editor: Samuel Glickstein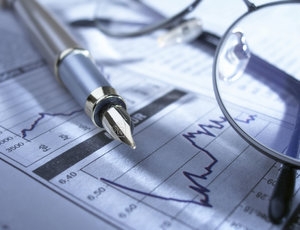 On December 21, 2015, the Indonesia Financial Services Authority (Otoritas Jasa Keuangan/OJK) published Regulation No. 38/POJK.05/2015 titled "Registration and Supervision of Actuaries, Certified Public Accountants, and Appraisers to Provide Services for the Non-Banking Financial Industry in Indonesia". According to this regulation, actuaries, public accountants, and appraisers must register with OJK as non-banking financial industry (IKNB) service providers before they can conduct services for non-banking financial institutions (LJKNB). The term LJKNB includes insurance companies, pension funds, leasing companies, and other non-banking financial institutions (including Sharia law-based financial institutions).

 RELATED: Due Diligence Services from Dezan Shira & Associates
LJKNB are prohibited from accepting services from actuaries, public accountants, and appraisers that are not registered with OJK. Some common services for LJKNB include the following:
Actuaries may conduct a valuation service of an insurance company's technical reserve fund.
Public accountants may conduct an assurance service of a leasing company's financial statement.
Public appraisers may evaluate land or a building as an investment valuation base for a pension fund's financial statement and investment report.
The regulation also establishes service provision periods. Each profession can only provide services to the same institution for a certain number of consecutive times or years. Actuaries can only provide services for the same institution three consecutive times. Public accountants may only work for an organization for five consecutive years, and appraisers are limited to three consecutive years. However, actuaries will be allowed to provide services to the same institution after the first time, public accountants after two years, and appraisers three years after providing services to a given institution.

RELATED: Indonesian RO's – Easy Steps for Successful Establishment
After they register as IKNB services providers with OJK, each actuary, public accountant, and appraiser is obligated to disclose past violations of financial service regulations that occurred when they were LJKNB, and also if there are any conditions or pre-conditions which may negatively impact the company or stakeholders.
The government will apply this regulation nine months after it is issued. The current rules for actuarial, public accounting, and appraising services, which were signed before this regulation was published, can still be applied until existing services have ended.
The new regulations on service providers in the non-banking financial industry may seem complex. The fact that actuaries, accountants, and appraisers must register with OJK, follow new service provision periods, and are required to disclose past legal violations will likely add to the pile of red tape that these bodies have to go through to operate in Indonesia. Therefore, it is essential that financial service companies hoping to do business in Indonesia seek help from an organization that understands the archipelago's complex regulatory environment. The pan-Asian consulting firm Dezan Shira & Associates as well as its Indonesian partner, Winnindo Business Consult, are happy to use their experience in legal, tax, and operational services in Indonesia to work with companies on how to thrive in the country's fast-changing financial services sector.

About Us
Asia Briefing Ltd. is a subsidiary of Dezan Shira & Associates. Dezan Shira is a specialist foreign direct investment practice, providing corporate establishment, business advisory, tax advisory and compliance, accounting, payroll, due diligence and financial review services to multinationals investing in Indonesia, China, Hong Kong, India, Vietnam, Singapore and the rest of ASEAN. For further information, please email indonesia@dezshira.com or visit www.dezshira.com. Stay up to date with the latest business and investment trends in Asia by subscribing to our complimentary update service featuring news, commentary and regulatory insight.
 ‍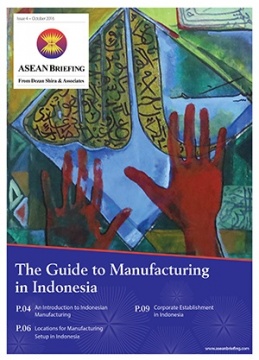 The Guide to Manufacturing in Indonesia
Choosing if, where, and how to establish foreign manufacturing operations in Indonesia can be a significant challenge. While the archipelago's vast diversity may initially seem daunting, a number of options are available which will allow entry and operations to be conducted in a seamless manner.In this issue of ASEAN Briefing, we discuss the growing importance of Indonesia as a hub for manufacturing within Southeast Asia, and provide guidance on how to select and establish operations within the country.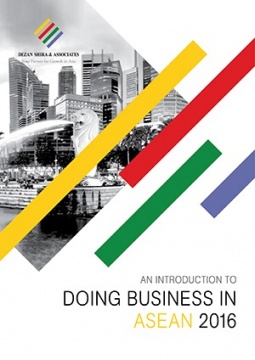 An Introduction to Doing Business in ASEAN 2016
An Introduction to Doing Business in ASEAN 2016 introduces the fundamentals of investing in the 10-nation ASEAN bloc, concentrating on economics, trade, corporate establishment and taxation.We also include the latest development news in our "Important Updates" section for each country, with the intent to provide an executive assessment of the varying component parts of ASEAN, assessing each member state and providing the most up-to-date economic and demographic data on each.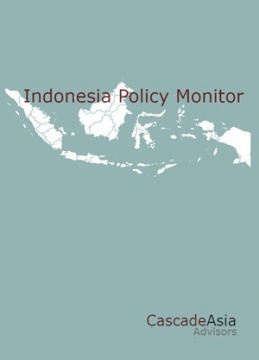 Indonesia Policy Monitor: October 2016
Indonesia presents a host of challenges that can impede the ability of foreign business players from operating at full stride. Among these challenges, the multiple and often overlapping layers of policy making and regulations makes for a complicated operating environment. Cascade Asia developed the Indonesia Policy Monitor as a complementary service to help foreign companies monitor newly passed and pending legislation and regulations.