Establishing a Representative Office in Indonesia
By: Winnindo Business Consult
Editor: Dustin Daugherty
As a country with a population exceeding a quarter billion – by far the largest in ASEAN – Indonesia is an alluring market for foreign companies to promote and sell their products and services w. With a young population (the median age is 29 years, which is low by regional standards) and a large and growing middle class, many foreign businesses have established Indonesian subsidiaries to tap into the large market.
However, in many cases – especially for small and medium-sized enterprises (SMEs) or other investors lacking the resources of multinational corporations – it is prudent to ease into the market slowly with a less expensive and lighter footprint to explore opportunities and gain market insights before committing to larger investments. For companies looking to conduct market research, identify potential partners, provide post-sales service or other support services, or even oversee the execution of commercial agreements with local partners, a Representative Office (RO) offers a low risk and low cost local presence. An RO can be an ideal structuring option to take advantage of Indonesia's vast potential without committing substantial investment capital for patient investors initially content to conduct more limited activities and without a need to generate revenue locally.
Indonesia's different types of representative offices
Foreign businesses have access to two different types of ROs in Indonesia:
Trade representative office
Trade ROs, which are governed by the Ministry of Trade, are the most common form of RO in Indonesia and share much in common with ROs or Liaison Offices in other Asian markets. However, the range of activities that may be conducted by Trade ROs are quite narrow Trade ROs may not undertake trading activities, own production facilities, or undertake operational business activities and, therefore, cannot accept orders, participate in tenders, sign contracts, or engage in the import, export, or distribution of goods. The types of activities that may be conducted by Trade ROs include marketing, promotional activities and information gathering for the overseas parent company. Trade ROs can also offer parent companies with interests in Indonesia a means to have a legal presence in the country and oversee agreements signed by the parent company and local partners, as long as the RO's activities do not directly aid profit making activities for the parent company.
Construction representative office
Construction ROs are an even more narrow form of entity created for the purposes of entering into a joint operation agreement with an Indonesian entity engaging in construction and/or construction consulting services. Unlike Trade ROs, Construction ROs are licensed by the Ministry of Public Works.
How to establish a Representative Office?
Step 1 – Registering your representative office
To successfully register as an RO in Indonesia, the following information and documentation must be prepared:
RO application form, Letter of Intent, and Letter of Statement
Letter of Appointment from principal company.
Letter of Reference from Indonesia Embassy 
Representative in the principal country.
RO business plan
Statement letter of labor companion from 
Ministry of Manpower
Foreign Worker Employment License, if RO 
employs a foreign employee
Step 2- Staffing your representative office
ROs in Indonesia are required to have at least one employee on their books as the official "RO head." The RO head must submit their curriculum vitae, education certificate, and valid ID card when submitting the RO registration application dossier to the competent authorities. There is no outright restriction on companies having their RO head be a foreign citizen. However, in such cases the foreign RO head must demonstrate to the authorities a minimum level of education (bachelor's degree is required) with at least three years of experience working in a related field. 
Investors should also be advised that if their RO wishes to employ foreign nationals, in order to stay in compliance with labor regulations, the RO must also employ three Indonesian citizens in administrative or expert roles for every one foreign employee. When applying for a foreign employee's work permit, the RO must provide evidence of its
employment of Indonesian staff such as a labor contract and copies of the employee's national ID card and/or passport.
Annual compliance for representative offices in Indonesia
While notably simpler and more streamlined than the compliance and reporting requirements for full foreign-owned companies in Indonesia, ROs must nevertheless perform annual filings for compliance purposes despite not generating any turnover or business profits. Requirements for RO compliance include the following:
Submission of an annual RO activities report (if the investor proposes to extend the time period for their RO's operating license);
Submission of monthly tax filings (while ROs will not be liable for corporate income tax, there will be tax filings for taxes such as VAT on consumed goods and services in the course of the RO's normal operations); and
Submission of social security reporting (essentially reporting for Indonesia's social insurance scheme). 
Indeed, successful investment strategies in Indonesia require meticulous attention to the details of compliance procedures and local laws. Despite the streamlining of compliance requirements in recent years, the applicable laws can still be complex and difficult to navigate for firms new to the country. All firms considering either new investments or expanding existing ones should be sure to conduct a careful internal review and maintain a clear understanding of regulatory responsibilities. 
Particularly for SMEs lacking the internal legal and compliance resources of multinationals, engaging the assistance of experienced hands, whether in the professional services sector or government, is an essential building block of a successful Indonesia strategy.

About Us
Asia Briefing Ltd. is a subsidiary of Dezan Shira & Associates. Dezan Shira is a specialist foreign direct investment practice, providing corporate establishment, business advisory, tax advisory and compliance, accounting, payroll, due diligence and financial review services to multinationals investing in Indonesia, China, Hong Kong, India, Vietnam, Singapore and the rest of ASEAN. For further information, please email indonesia@dezshira.com or visit www.dezshira.com. Stay up to date with the latest business and investment trends in Asia by subscribing to our complimentary update service featuring news, commentary and regulatory insight.
 ‍

Dezan Shira & Associates Brochure
Dezan Shira & Associates is a pan-Asia, multi-disciplinary professional services firm, providing legal, tax and operational advisory to international corporate investors. Operational throughout China, ASEAN and India, our mission is to guide foreign companies through Asia's complex regulatory environment and assist them with all aspects of establishing, maintaining and growing their business operations in the region. This brochure provides an overview of the services and expertise Dezan Shira & Associates can provide.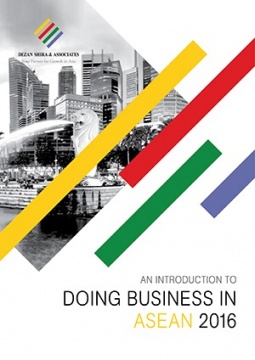 An Introduction to Doing Business in ASEAN 2016
An Introduction to Doing Business in ASEAN 2016 introduces the fundamentals of investing in the 10-nation ASEAN bloc, concentrating on economics, trade, corporate establishment and taxation.We also include the latest development news in our "Important Updates" section for each country, with the intent to provide an executive assessment of the varying component parts of ASEAN, assessing each member state and providing the most up-to-date economic and demographic data on each.

An Introduction to Foreign Investment in Indonesia
Indonesia stands out in the ASEAN region for its competitive wages, large labor pool, and burgeoning domestic market. With a population exceeding 250 million, the country is poised to become an immensely lucrative market as it develops further and the urban consumption class continues to grow. In this inaugural issue of Indonesia Briefing magazine, we examine these trends, and highlight how Indonesia has made enormous strides in streamlining and liberalizing its business environment.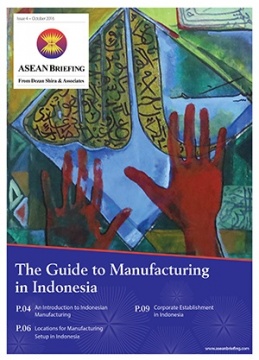 The Guide to Manufacturing in Indonesia
Choosing if, where, and how to establish foreign manufacturing operations in Indonesia can be a significant challenge. While the archipelago's vast diversity may initially seem daunting, a number of options are available which will allow entry and operations to be conducted in a seamless manner.In this issue of ASEAN Briefing, we discuss the growing importance of Indonesia as a hub for manufacturing within Southeast Asia, and provide guidance on how to select and establish operations within the country.