Understanding Tax Treatment of Representative Offices in Indonesia
By: Winnindo Business Consult
Editor: Dustin Daugherty
Recent years have seen numerous high-profile cases by the Indonesia tax authority against prominent foreign tech firms. Most notable of these cases is that of Google, which allegedly used an Indonesian RO to carry out its in-country business activities, but shifted all taxable profit to an offshore entity in Singapore. However, Google's case is not uncommon. In fact, many investors also do the same thing and invoice clients from offshore entities, presenting themselves and their businesses to legal issues.
Although previously this tax avoidance strategy may have been low-risk, the recent crackdown by the tax authorities demonstrates how essential it is that investors, even those using ROs in the country, take measures to ensure full tax compliance. Thus, to avoid the fate of Google and others, it is essential for companies operating ROs in Indonesia to have a strong grasp of tax regulations. Further, given the complexity of such regulations, investors are encouraged to seek the assistance of professional services experts of tax officials to avoid costly oversights.
Tax Treatment of Representative Offices
As ROs may not engage directly in profit generation, many investors assume the only tax they must be concerned with are withholdings on employee salaries. However, Indonesia's Tax Authority has in fact put into place specific regulations for the tax treatment of ROs, stipulating that if ROs carry out activities to generate profit in Indonesia, even if the revenues are paid directly to an offshore parent, then such activities will be found to be liable for corporate taxation.
ROs are categorized as a special class of taxpayers that have to use specified tax calculations to inform its CIT liability, even if the ROs are not directly booking revenue. The current tax rate under this special category is 0.44 percent of Gross Export Values (GEVs). GEVs are overall replacement values for revenues of a foreign company that operates an RO in Indonesia. These revenues come from goods or services delivered to persons or corporate entities located in Indonesia by the RO. Additionally, if the RO of foreign entities are de-facto found to be engaging in profit making activity on behalf of the parent company, then the parent company will be liable for the Branch Profits Tax specified in a tax treaty between Indonesia and the parent's home country.

About Us
Asia Briefing Ltd. is a subsidiary of Dezan Shira & Associates. Dezan Shira is a specialist foreign direct investment practice, providing corporate establishment, business advisory, tax advisory and compliance, accounting, payroll, due diligence and financial review services to multinationals investing in Indonesia, China, Hong Kong, India, Vietnam, Singapore and the rest of ASEAN. For further information, please email indonesia@dezshira.com or visit www.dezshira.com. Stay up to date with the latest business and investment trends in Asia by subscribing to our complimentary update service featuring news, commentary and regulatory insight.
 ‍

Dezan Shira & Associates Brochure
Dezan Shira & Associates is a pan-Asia, multi-disciplinary professional services firm, providing legal, tax and operational advisory to international corporate investors. Operational throughout China, ASEAN and India, our mission is to guide foreign companies through Asia's complex regulatory environment and assist them with all aspects of establishing, maintaining and growing their business operations in the region. This brochure provides an overview of the services and expertise Dezan Shira & Associates can provide.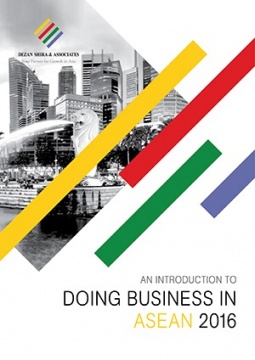 An Introduction to Doing Business in ASEAN 2016
An Introduction to Doing Business in ASEAN 2016 introduces the fundamentals of investing in the 10-nation ASEAN bloc, concentrating on economics, trade, corporate establishment and taxation.We also include the latest development news in our "Important Updates" section for each country, with the intent to provide an executive assessment of the varying component parts of ASEAN, assessing each member state and providing the most up-to-date economic and demographic data on each.

An Introduction to Foreign Investment in Indonesia
Indonesia stands out in the ASEAN region for its competitive wages, large labor pool, and burgeoning domestic market. With a population exceeding 250 million, the country is poised to become an immensely lucrative market as it develops further and the urban consumption class continues to grow. In this inaugural issue of Indonesia Briefing magazine, we examine these trends, and highlight how Indonesia has made enormous strides in streamlining and liberalizing its business environment.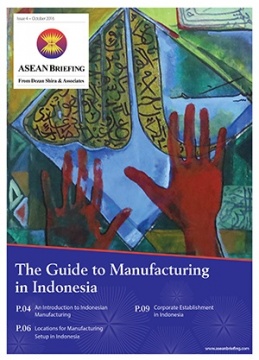 The Guide to Manufacturing in Indonesia
Choosing if, where, and how to establish foreign manufacturing operations in Indonesia can be a significant challenge. While the archipelago's vast diversity may initially seem daunting, a number of options are available which will allow entry and operations to be conducted in a seamless manner.In this issue of ASEAN Briefing, we discuss the growing importance of Indonesia as a hub for manufacturing within Southeast Asia, and provide guidance on how to select and establish operations within the country.