Rimpatriare i Profitti dall'Indonesia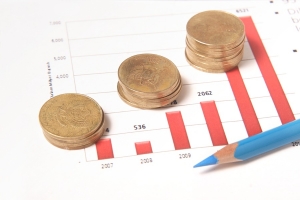 A cura dell'Italian Desk di Dezan Shira & Associates
Se paragonata a Singapore, alla Malaysia e alla Thailandia, l'Indonesia risulta il Paese più restrittivo verso le imprese straniere, perchè non si limita ad imporre una tassazione più elevata, ma ha anche una burocrazia più complessa ed una fitta regolamentazione. Nonostante ciò, molti investitori sono attratti dall'immenso potenziale dell'Indonesia.
Come accade in Thailandia, non esistono requisiti per la prevenzione delle perdite, per le tempistiche e per la conformità pre-rimpatrio dei profitti. Inoltre più di 60 Paesi operanti in Indonesia sfruttano gli Accordi sulla Doppia Tassazione. Per risultare idonei a questi benefici, i destinatari devono dimostrare la loro residenza fiscale fornendo all'Ufficio Fiscale Indonesiano un certificato di domicilio autenticato dall'autorità fiscale del Paese di provenienza. Le imprese straniere operanti tramite una stabile organizzazione generalmente hanno la stessa tassazione delle aziende domestiche. Questo tipo di società ha una definizione relativamente ampia in Indonesia ed è soggetta a specifiche regolamentazioni governative ed aliquote fiscali. Per questo motivo, gli investitori devono assicurarsi che la loro attività non rientri in questa categoria.

 Servizi correlati: Consulenza Pre-Investimento e di Strategia d'Investimento
Dividendi: le rimesse dei dividendi sono soggette al 20 per cento di ritenuta d'acconto. Questo ammontare può essere diminuito attraverso l'Accordo sulla doppia tassazione. In questo caso tuttavia l'aliquota è tra il 10 e il 15 per cento. Se il destinatario delle rimesse non risiede in Indonesia e ha una stabile organizzazione si applicano le aliquote locali dal 10 al 15 per cento.
Interessi: l'Indonesia trattiene il 20 per cento sul pagamento degli interessi. Gli Accordi sulla doppia tassazione offrono un'aliquota minore e differenti opportunità di esenzione. I pagamenti verso le banche o verso altre istituzioni finanziarie sono generalmente associati ad aliquote fiscali minori. Se pagata al governo, ad una banca collegata con un contratto di mutuo al governo, o a determinate banche e istituzioni finanziarie, la ritenuta d'acconto può essere completamente eliminata. Inoltre vengono concesse aliquote più basse ed esenzioni se i profitti pagati derivano da specifiche imprese industriali. L'aliquota del 15 per cento è applicata al destinatario delle rimesse che non risiede in Indonesia ma che ha una stabile organizzazione.
Royalties: come per i dividendi e gli interessi, le royalties sono soggette al 20 per cento di ritenuta d'acconto. Aliquote minori sono disponibili per diversi settori nella maggior parte degli Accordi sulla doppi tassazione, incluso quello del copyright artistico ed industriale, commerciale o dell'attrezzatura scientifica. Per i destinatari delle rimesse che non risiedono in Indonesia ma che hanno una stabile organizzazione viene applicata l'aliquota locale del 15 per cento.
Imposta sui redditi delle filiali: l'Indonesia impone alle stabili organizzazioni una ritenuta d'acconto del 20 per cento sui redditi delle filiali al netto delle imposte, anche se i fondi non vengono trasferiti nel Paese di provenienza. Questo importo può essere abbassato attraverso il differimento delle imposte o reso esente se l'utile viene reinvestito in Indonesia.
Restrizioni sui tassi di cambio: l'Indonesia non ha un controllo dei tassi di cambio sui flussi monetari in entrata e in uscita. Nonostante ciò, le aziende devono fornire alla Banca d'Indonesia un resoconto di tutti i trasferimenti effettuati verso Paesi esteri, inclusi i trasferimenti denominati in Rupia Indonesiane (IDR), il bilancio d'esercizio e il conto economico. Nella maggior parte dei casi i pagamenti all'interno dei confini nazionali devono essere effettuati in IDR.

Chi Siamo
Asia Briefing Ltd. è una controllata di Dezan Shira & Associates. Dezan Shira & Associates è una società di consulenza specializzata nell'assistenza agli investimenti diretti esteri per le società che intendono stabilire, mantenere e far crescere le loro operazioni in Asia. I nostri servizi includono consulenza legale e strategica all'investimento, costituzione e registrazioni societarie, tenuta contabile con redazione di bilanci periodici ed annuali, consulenza fiscale e finanziaria, due diligence, revisione contabile, gestione tesoreria, libri paga e personale, transfer pricing, consulenza IT, sistemi gestionali, deposito marchi e servizio visti. Per maggiori informazioni vi invitiamo a contattarci al seguente indirizzo: italiandesk@dezshira.com o a visitare il nostro sito: www.dezshira.com.
Per rimanere aggiornati sugli ultimi trend degli investimenti e del business in Asia, iscrivetevi alla nostra newsletter per ricevere notizie, commenti, guide e risorse multimediali.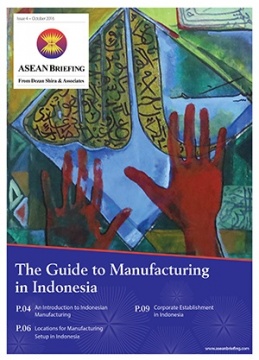 The Guide to Manufacturing in Indonesia
Choosing if, where, and how to establish foreign manufacturing operations in Indonesia can be a significant challenge. While the archipelago's vast diversity may initially seem daunting, a number of options are available which will allow entry and operations to be conducted in a seamless manner. In this issue of ASEAN Briefing, we discuss the growing importance of Indonesia as a hub for manufacturing within Southeast Asia, and provide guidance on how to select and establish operations within the country.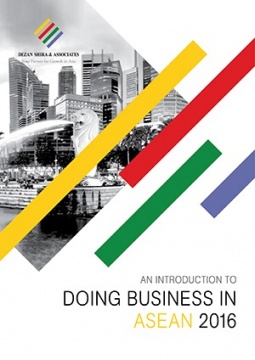 An Introduction to Doing Business in ASEAN 2016
An Introduction to Doing Business in ASEAN 2016 introduces the fundamentals of investing in the 10-nation ASEAN bloc, concentrating on economics, trade, corporate establishment and taxation. We also include the latest development news in our "Important Updates" section for each country, with the intent to provide an executive assessment of the varying component parts of ASEAN, assessing each member state and providing the most up-to-date economic and demographic data on each. Additional research and commentary on ASEAN's relationships with China, India and Australia is also provided.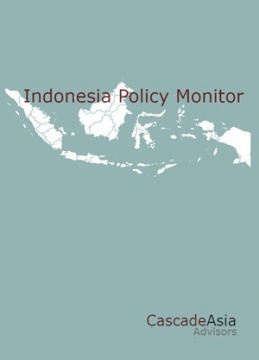 Indonesia Policy Monitor: October 2016
Indonesia presents a host of challenges that can impede the ability of foreign business players from operating at full stride. Among these challenges, the multiple and often overlapping layers of policy making and regulations makes for a complicated operating environment. Cascade Asia developed the Indonesia Policy Monitor as a complementary service to help foreign companies monitor newly passed and pending legislation and regulations.