Selecting the Optimal Location for Indonesian Manufacturing
By Samuel Glickstein
In recent years Vietnam, Myanmar, and India have attracted a significant amount of media attention as potential manufacturing powerhouses. Although these countries may deserve consideration, Indonesia, the world's fourth largest country, maintains numerous strengths that beckon to the business community. With over 260 million people and a total median age of 28.6 years, Indonesia possesses both a large workforce and a young population. Furthermore, increasing urbanization eases the cost of doing business for foreign companies that manufacture their goods in Indonesia and intend to sell their products to the country's rising middle class. The Indonesian government has also realized the importance of developing the country's manufacturing sector in increasing economic growth, creating employment opportunities, and reducing the archipelago's reliance on exporting commodities. President Joko "Jokowi" Widodo has released numerous policy packages since September 2015 aimed at easing the cost of doing business in Indonesia, increasing foreign investment to make the economy more competitive, and boosting industrialization.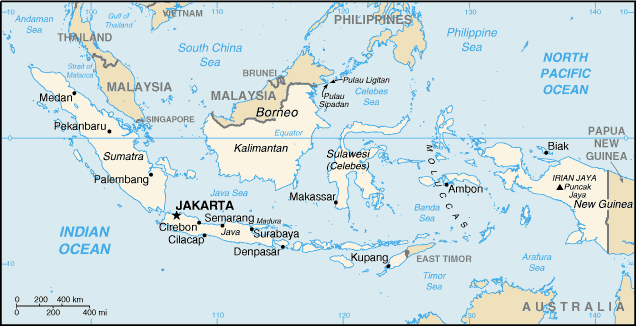 These favorable conditions may persuade investors to look at Indonesia as a potential production base in Asia. But Indonesia possesses approximately 13,664 islands and over one hundred active volcanoes, which makes identifying an ideal location to set up a manufacturing base a complex decision. This article provides an introduction to selecting areas for manufacturing and examines some of the factors that domestic and foreign firms must consider to select an optimal production base in Indonesia.
West Java
With over 141 million people, Java is Indonesia's most crowded and developed island. Indeed, 56.7 percent of Indonesia's population lives on Java, making the island a magnet for foreign investment. West Java, in particular, with its proximity to Jakarta is home to numerous industrial estates. Increasing labor and land costs in the capital have pushed companies to build their factories in surrounding cities in West Java: Tangerang, Bekasi, Depok, and Bogor.
Toyota, Nestle, LG, and Samsung are some of the major multinational firms that have set up factories in this area. These companies benefit from close proximity to business services in Jakarta. In addition, growing urbanization in Indonesia means that as more people move to the capital city and Bandung, the capital of West Java, these companies will be closer to their customers. Jabodetabek, the official name for the urban area surrounding Jakarta, has some of the best infrastructure in Indonesia, including paved roads, large ports, and reliable electricity. These assets keep the costs of logistics in West Java relatively low and make it cheaper and easier to produce and export goods.
West Java possesses numerous advantages over other parts of Indonesia that make it a strong production base for manufacturing.  However, the region does have its drawbacks. Minimum wages in Jakarta and West Java rank as the highest in the nation. The area has also experienced land shortages, which make it difficult and expensive for firms to build new manufacturing facilities. Although Jakarta and West Java's infrastructure is more developed than many other areas of the archipelago, it is also crowded. Jakarta is one of the world's most congested cities and surrounding areas, including Bandung, are not much better. Infrastructure bottlenecks also plague nearby ports. For example, Tanjung Priok, Indonesia's largest and busiest port, is considered one of the least efficient and most congested ports in Southeast Asia due to slow customs handling and capacity issues. In May 2015 it took an average of six for containers to leave Tanjung Priok, after being unloaded. The "dwell time" in Tanjung Priok is twice as long as in Malaysia and five times longer than in Singapore.
Riau Islands
The Riau Islands of Batam, Bintan, and Karimun are other potential hubs for foreign firms seeking to build up their manufacturing in Indonesia. In 2007 Indonesia and Singapore signed an agreement that made the Riau Islands into a special economic zone. This framework removed all tariffs and value-added taxes between Batam, Bintan, Karimun and Singapore. As a result, Batam developed Indonesia's largest shipbuilding industry and became a hub for electronics manufacturing. Numerous Singaporean manufacturing firms also moved to Batam to take advantage of a wide availability of cheap land and labor.
However, rising wages have prompted some foreign firms to abandon the Riau Islands. Although Batam's physical infrastructure is more advanced than most other parts of Indonesia, the island's lack of a deep port forces companies on the island to transport goods through a third country.
Despite these wage and infrastructure issues, the Riau Islands still hold out allure for forward-thinking companies. The Batam Industrial Development Authority (BIDA) has employed a one-stop investment application process that reduces bureaucratic hurdles. It only takes 20 working days to gain approval for investment projects in Batam because of BIDA's management of the permit and license process. This service as well as the factors mentioned above make Batam an interesting investment destination for international shipbuilding operations.
Beyond
Though West Java and Batam have the most developed facilities for manufacturing, investors continue to explore other parts of Indonesia. Central Java and East Java hold appeal for firms that want to keep their production base relatively close to Jakarta. Textile manufacturers have shifted production to Central Java because the province has lower wages than Jakarta and a workforce of approximately 33 million people. Central Java may lack some of West Java's advanced infrastructure but the government is committed to upgrading the region's facilities and attracting industry. In November 2016 it opened Kendal Industrial Park, a 2,700-hectare park in Semarang, the capital of Central Java.
East Java is larger in terms of land mass and population than Central Java. In addition to boasting lower wages than Jakarta, East Java is in the process of constructing industrial parks that will enable the province to further compete for manufacturing investment with West Java. East Java has also been promoted as the door to eastern Indonesia, a region of vast natural resources and potential for consumer spending.
Identifying a suitable site for manufacturing in Indonesia is not easy for a company that does not understand the archipelago's diverse geography. Without proper guidance a firm may lose valuable time building a facility in the wrong place. Foreign firms interested in manufacturing their products in Indonesia may wish to contact the Indonesian government about special economic zones that offer investment incentives. Furthermore, firms can ask Dezan Shira & Associates and its Indonesian partner, Winnindo Business Consult, for operational advisory solutions on choosing the right location to maximize opportunities in the archipelago.
About Us
Asia Briefing Ltd. is a subsidiary of Dezan Shira & Associates. Dezan Shira is a specialist foreign direct investment practice, providing corporate establishment, business advisory, tax advisory and compliance, accounting, payroll, due diligence and financial review services to multinationals investing in Indonesia, China, Hong Kong, India, Vietnam, Singapore and the rest of ASEAN. For further information, please email indonesia@dezshira.com or visit www.dezshira.com.
Stay up to date with the latest business and investment trends in Asia by subscribing to our complimentary update service featuring news, commentary and regulatory insight.
Related Reading:
Dezan Shira & Associates is a pan-Asia, multi-disciplinary professional services firm, providing legal, tax and operational advisory to international corporate investors. Operational throughout China, ASEAN and India, our mission is to guide foreign companies through Asia's complex regulatory environment and assist them with all aspects of establishing, maintaining and growing their business operations in the region. This brochure provides an overview of the services and expertise Dezan Shira & Associates can provide.
---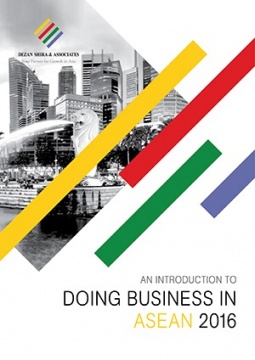 An Introduction to Doing Business in ASEAN 2016 introduces the fundamentals of investing in the 10-nation ASEAN bloc, concentrating on economics, trade, corporate establishment and taxation.We also include the latest development news in our "Important Updates" section for each country, with the intent to provide an executive assessment of the varying component parts of ASEAN, assessing each member state and providing the most up-to-date economic and demographic data on each.
---

Indonesia stands out in the ASEAN region for its competitive wages, large labor pool, and burgeoning domestic market. With a population exceeding 250 million, the country is poised to become an immensely lucrative market as it develops further and the urban consumption class continues to grow. In this inaugural issue of Indonesia Briefing magazine, we examine these trends, and highlight how Indonesia has made enormous strides in streamlining and liberalizing its business environment.
---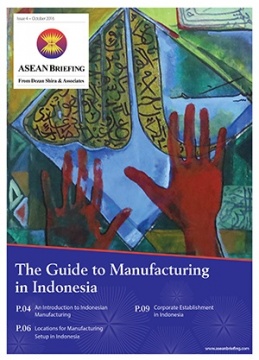 Choosing if, where, and how to establish foreign manufacturing operations in Indonesia can be a significant challenge. While the archipelago's vast diversity may initially seem daunting, a number of options are available which will allow entry and operations to be conducted in a seamless manner.In this issue of ASEAN Briefing, we discuss the growing importance of Indonesia as a hub for manufacturing within Southeast Asia, and provide guidance on how to select and establish operations within the country.